Kim Kardashian Mocks Tanning Mom In Twitter Pic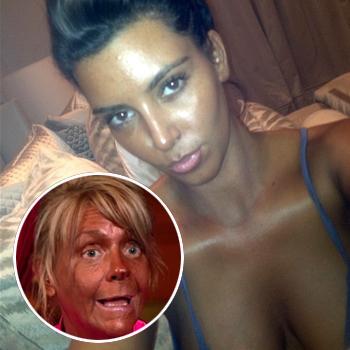 Kim Kardashian had a go at 'Tanning Mom' Patricia Krentcil by posting a crazy picture of herself on her Twitter page.
"The tannerexic mom has some serious competition!!! LOL," Kim wrote alongside a pic of herself with extremely deep copper brown skin."
Some fans were concerned, and Kim finally explained, "Relax that's just a spray tan!!! I washed off & I'm back to my normal tan self! But how crazy does it look after being on for 8 hours."
Article continues below advertisement