Tanning Mom Patricia Krentcil Spends Mother's Day With Daughter She's Accused Of Burning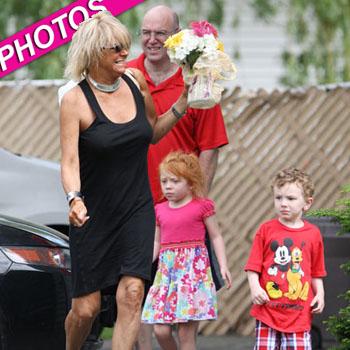 Next to Octomom, Patricia Krentcil is probably the most notorious mom on the planet at the moment. But that doesn't mean she can't enjoy Mother's Day.
The 44-year-old blonde lived up to her reputation on Sunday and showed off her bronze tan by wearing a black, sleeveless dress. The woman dubbed "Tanning Mom" shunned nylon tights, preferring to display her brown, bare legs.
Tanning Catastrophes! 10 Celebrities With Really Bad Tan Lines
Article continues below advertisement
Patricia was spotted in New Jersey with her family over the weekend. Clutching a bunch of flowers she was accompanied by her husband Richard, a little boy and her daughter Anna.
Despite the media and legal storm surrounding her, Patricia seemed relaxed and happy.
She has been charged with second degree child endangerment for allegedly taking Anna into a tanning booth with her.
The little girl has since been removed from her care and is temporarily living with a relative.