Bling Ring Leader Alexis Neiers Gets Married!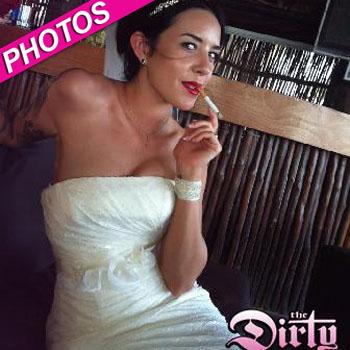 Article continues below advertisement
"Evan and Alexis met in beautiful Malibu, Calif., in December of 2010," a wedding website said about the happy couple and their romantic beginning together.
"They both regularly attended the same spiritual gathering up on top of a magical hill gently nestled in between the Santa Monica mountains, overlooking the Pacific Ocean. The place was Serra Retreat, a working Franciscan Monastery, a truly magical place. Looks were exchanged, a few words were spoken, maybe the odd smile. Things started off slow. But like the changing of the tides, nothing could stop the slow and eventual joining of their paths. First it was some texting, then a phone call or two. Before they knew it, the young lovers were strolling the promenade and enjoying a meal.
"Then a movie...then a kiss. But it wasn't until one fateful night, sitting on the shore of Santa Monica Beach together, looking out at the waves and the stars and the sparkling lights of the pier, that they truly began to fall in love. They laughed and kissed; they spoke of their hopes and dreams, their fears, family, and the future... Nothing was going to keep them apart. The future has arrived. We are so happy to be sharing it with all of you, our beloved family and friends. Thank you."
Article continues below advertisement