Tan Mother Patricia Krentcil Says SNL Skit 'Hysterical'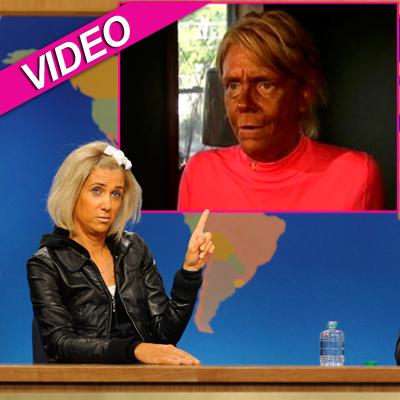 Patricia Krentcil isn't feeling too much heat after she was skewered on this week's Saturday Night Live by Kristen Wiig.
"It was well done," the 44-year-old Nutley, New Jersey woman told the NY Post of the spoof. "The whole thing was hysterical."
As we previously reported, Krentcil was arrested April 24 on a second-degree child endangerment charge, as authorities said she took her 6-year-old kindergartener daughter Anna into a stand-up tanning booth, where the child was burned. (According to New Jersey law, no one 13-years-old or younger is allowed to enter the booths.)
Article continues below advertisement
Tanning Catastrophes! 10 Celebrities With Really Bad Tan Lines
In subsequent media appearances following her arrest, Krentcil's garnered attention for her extreme tan.
"I can't blame my critics for being jealous," Wiig said in the skit, channeling her inner Krentcil. "I am alluring in a way they'll never be. Trust me, there are plenty of men in New Jersey who would love to snap into this Slim Jim!"