Flesh-Eating Bacteria Victim Aimee Copeland Bravely Walks Onto Katie Couric's Show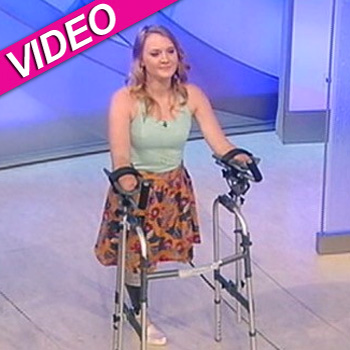 Article continues below advertisement
"That felt pretty good," Aimee told Couric. "It was awesome. It felt so good after just sitting or lying down for so long. You take for granted how wonderful it is just to look people in the eyes!"
As RadarOnline.com previously reported, after falling into the murky Little Tallapoosa River in Georgia from a homemade zip line on May 1, Aimee suffered a deep gash in her calf and despite it being cleaned and closed with 22 staples, bacteria burrowed deep into the wound and caused necrotizing fasciitis, a usually fatal infection, forcing doctors to perform the extreme amputations.
When asked by Katie if there was any point on her long road to recovery she "ever felt like, 'I can't do this, I just want to die'…?" She replied firmly, "No. That was never really an option to me.
"I love life. It's a beautiful thing," she laughed. "Even more so now. It's something that I don't take for granted any more. How beautiful it is, seeing a sunrise, the ocean, animals.
"Senses are so deepened," Copeland explained. "Everything smells better. Everything is more vibrant, more beautiful."
Article continues below advertisement
The deeply moved talk show host revealed that she was worried before she first met Aimee in Atlanta this summer that she'd feel uncomfortable after everything that happened to her, but instead, "I was made aware immediately that what you don't have is eclipsed by what you do have," Katie gushed.
"I don't like to be called disabled or handicapped," explained Aimee directly. "There's a lot that I don't have that other people have, but there's a lot that I do have that other people don't. Instead of saying I'm disabled, I say I have different abilities."
Later in the interview, the 24-year-old University of West Georgia student revealed that her loyal boyfriend Ben has stuck by her throughout the devastating ordeal.
"He's really great and we have been together through so many hard times. I look at him and I see myself with him and I think he thinks that too," said the lovesick girlfriend.
"It's remarkable how laid back he is even when I'm being a grouch. When I stood up for the first time he started crying, it was really sweet."
Article continues below advertisement
While most of the girls' chat was about positive things, the conversation took a darker tone when Copeland described the early days of her ordeal when the bacteria first began eating away at her body.
"I think the most extreme moment was when my dad lifted up my hands for me to see, and my fingers were black and my hands were a deep, blood red," she said. "I said, 'Let's do this.' I mean, what else are you going to do? Live with some dead hands?"
If her dramatic entrance didn't express her can-do attitude enough, Aimee's boundless ambition does, as she is determined to get her Master's degree in psychology, and prove that the physically disabled don't need to have limitations.
"I want to spread that knowledge to other amputees and help people get back in the woods, get back in the wilderness, into that place that can be so healing," she told Katie.
Article continues below advertisement
First Photo Of Flesh-Eating Bacteria Victim Shows 'A Beauty Of Survival, Of Resistance'