Flesh-Eating Victim Aimee Copeland Smiles In New Photos, Parents Optimistic About Her Recovery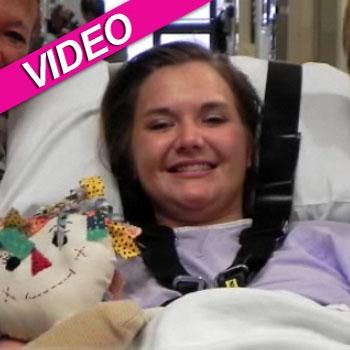 Aimee Copeland's parents Andy and Donna told the Today show Tuesday they'll be by their daughter's side everyday she's recovering, as the 24-year-old has left an Augusta, Georgia hospital for a six-to-eight week stint at an inpatient rehabilitation facility.
"We all deal with the emotional aspect everyday, she's going to continue to need our support," Andy said. "She's told us she wants to see us everyday -- she continues to recover and well make sure we're there for her."
Article continues below advertisement
As we previously reported, the University of West Georgia student lost her left leg, right foot and both hands as result of getting infected with a flesh-eating infection after a zip-lining accident May 1.
Upon leaving the hospital, Donna said the resurgent Aimee "was very excited when we got in the ambulance ... but it didn't take long till she was out like a light!"
She said her daughter was "motivated" to bounce back from the life-threatening flesh-eating virus that had her hospitalized for two months.
Andy says the skills she'll have to relearn encompass basic life tasks we all take for granted.
"Whatever she needs, whether it's to go to the bathroom, to fix something to eat, she just has to relearn to have some mobility in her life again," he said, adding "that process has already started."
Watch the video on RadarOnline.com
Asked about Aimee's goal of walking with her class at a graduation ceremony later this year, Andy said, "I believe when you have the power of prayer behind you, I think anything's possible."