First Photo Of Flesh-Eating Bacteria Victim Shows 'A Beauty Of Survival, Of Resistance'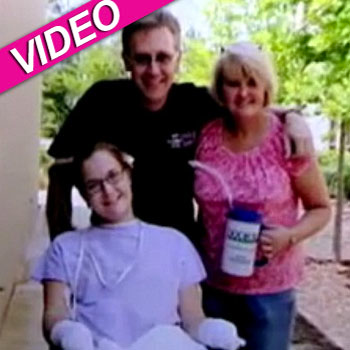 Article continues below advertisement
"Aimee has a beauty in this photograph that I think goes beyond words. It's a beauty of survival, of resilience," wrote her father, Andy Copeland, on the blog he has set up to track her progress.
As RadarOnline.com previously reported, Aimee contracted the hideous infection after falling from a homemade zip line into infected water near the Little Tallapoosa River and has since lost both her hands, her left leg and right foot as doctors battle to stop the deadly bacteria from spreading.
"After she got up into her chair, I pushed Aimee down the hallway and out the front door of the burn unit. For one full hour I pushed Aimee around, giving her a tour of the outside of the hospital while her mother followed along with a water jug for Aimee's hydration," Andy explained, as he chronicled her first day out in the sunshine.
"All three of us talked while we rolled along and eventually we came to rest near a grove of pine trees," he explained. "As we sat amongst the pine trees, Aimee, Donna and I talked about life. We tried to come to an understanding about how the events of the past 49 days have impacted her life."
Article continues below advertisement
When asked how she felt about everything that had happened in the traumatic month-and-a-half of skin grafts and amputations, Aimee replied bravely, "It's okay… I don't have any regrets about what has happened. I don't focus on what I've lost, I would rather focus on what I've gained. I feel like I've been blessed.
"I mean that I am blessed to have the opportunity to experience something that not many other people have the chance to experience," she went on to explain. "I am blessed to have the capacity to share my experience with others and have a chance to improve the quality of someone else's life. I'm blessed to be different."
Aimee's positive attitude in the light of intense adversity has led to her having a slew of celebrity supporters including Ann Curry, Katie Couric, Kirstie Alley and Sofia Vergara, who have all reached out to her with words of encouragement.
Undeterred by her long road to recovery, the University of West Georgia psychology student is still determined to get her master's degree in December, and to walk onto the stage to receive her diploma.
"And you heard the word right -- 'walk.' That's what she intends to do," said Andy.