Girl With Flesh-Eating Disease Off The Ventilator And 'Cracking Jokes'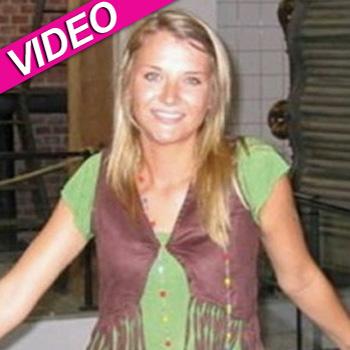 By Debbie Emery - RadarOnline.com Reporter
Following a harrowing few weeks where she lost both her hands, her left leg and right foot, the Georgia girl whose body is being ravaged by a flesh-eating disease celebrated a small victory on Sunday when she was taken off the ventilator and finally breathed on her own.
Aimee Copeland proved that even the devastating bacteria couldn't destroy her good spirits and her family revealed that she is already acting like normal.
Article continues below advertisement
"Aimee is being Aimee. She's cracking jokes, speaking frankly, displaying her usual early morning grumpiness and she has been off of the ventilator for over 10 hours," Andy Copeland said in a blog post on Sunday night.
"They are running an oxygen 'mask' to her tracheostomy at an o2 level of only 35 percent, but the important thing is that she is getting zero breath per minute (bpm) assists," her dad explained. "In other words, she is breathing completely on her own! How cool is that?"
"Bottom line: Aimee is doing great today. *insert crazy-grin-happy-face here*" wrote the proud parent.
As RadarOnline.com previously reported, the 24-year-old from Snellville, Georgia, contracted the hideous infection, after falling from a homemade zip line into infected water near the Little Tallapoosa River on May 1.
She suffered a deep gash in her calf and despite it being cleaned and closed with 22 staples, a bacteria burrowed deep into the wound and caused necrotizing fasciitis, forcing surgeons to amputate her left leg.
Article continues below advertisement
Last week, Aimee lost her hands and remaining foot after they went through a startling color transformation. "They went from a splotchy purple color to a red tone and then to a pinkish flesh tone... back to an angry red," wrote Copeland. "The doctor explained that her body was trying hard to heal her hands, but the blood flow was too poor."
Andy had clearly gotten his sense of humor back too after finally having some good news to report, and he addressed the rumors that the family had retreated into a "cone of silence."
"The only cone I have ever retreated into is a cone of Pralines & Cream (triple scoop). Yeah, I could retreat into that cone for quite some time," he wrote, explaining that he is trying to focus on getting his personal and professional life back together, and spending less time talking to the press.
"I knew I was spending too much time with the media when my parents said they were having to watch CNN for updates on Aimee. Not good."
Article continues below advertisement
The bacteria that triggered the infection destroying the University of West Georgia Psychology student's body, Aeromonas hydrophila, thrives in warm climates and fresh water. While common, the germ rarely causes flesh-eating disease. But when it does, the infection carries a fatality rate upward of 60 percent, according to a 2010 report published in the Journal Clinical Microbiology Reviews.
RELATED STORIES: