Flesh-Eating Bacteria Victim Masters Her Prosthetics 'In 10 Minutes,' Boasts Dad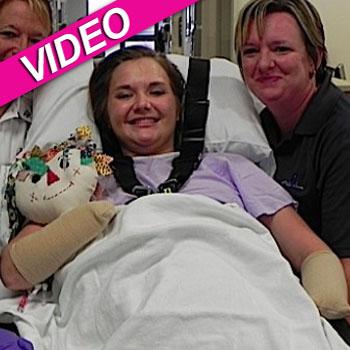 Article continues below advertisement
"It's interesting... after having those hooks on for about 10 minutes she seemed to be able to master the ability to use them," he said, explaining how she had plucked up a pair of shorts in her rehabilitation center. "The prosthetist looked at that and said, 'Wow, it usually takes three days for somebody to be able to master the coordination of using those hooks to be able to do something like that.'"
As RadarOnline.com previously reported, Aimee contracted the hideous infection that led to necrotizing fasciitis on May 1 after falling from a homemade zip line into infected water near the Little Tallapoosa River and has since lost both her hands, her left leg and right foot as doctors battled to stop the deadly bacteria from spreading.
After two months in the hospital, she was released to a rehab center to come to terms with her loss of limbs and the multiple skin grafts that she has endured, and is doing so well that she may be able to return home as soon as August 22.
Article continues below advertisement
With daily 90-minute workouts that include 200 crunches in seven minutes, 400 leg lifts in the same time span and an "untold" number of pushups, Aimee is exercising more than most healthy people!
"The regimen that she is under right now is incredible. She's pushing it really hard," her dad revealed.
It's not all smiles and sunshine in rehab, however, as Andy explained on his blog when he posted soundbites from Aimee as she struggles through training sessions.
"I hate my physical therapist… My therapist hates me… She is a sadist… She loves to see me grimace in pain," he quoted in a tongue-in-cheek update.
When she gets home to her family later this month, Aimee may not even recognize her house after extensive renovations have been made to accommodate her new needs.
A 2,000 square foot addition dubbed "Aimee's Wing" has been added to the house near Atlanta thanks to a donation from builder Pulte Homes, which will include access ramps, an elevator to the home's second floor, an exercise room Aimee will use to continue her recovery, guide rails in the bathroom, and a separate wash sink she can use to clean her prosthetics.