Exclusive
Olympian Dominique Moceanu's Secret Gymnast Sister Had No Legs & No Limits Growing Up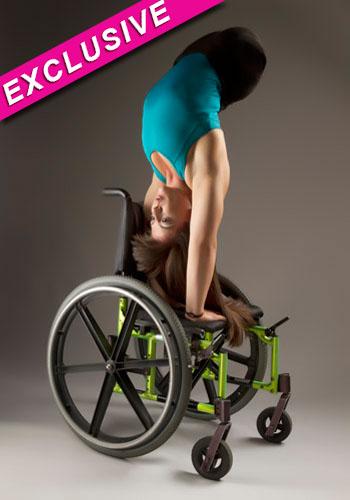 Article continues below advertisement
"Tumbling was my first sport, I was in second or third grade when I began classes," explained Jen, who then went on to softball, volleyball and basketball.
"I was really good at them! I competed in power tumbling for four years, won state champion one year and then went to the Junior Olympics and got fourth all around.
"I was really good at volleyball as well, and if you think about it, it makes sense because I am low to the ground, I am strong and I move quickly, so as long as I am not trying to block or spike then I'm pretty good!" she said.
Article continues below advertisement
The energetic youngster even tried her hand at roller skating, "I'd go to the roller rink with my friends like everyone else and just put the roller-skates on my hands and propel myself with my sides," she said, laughing: "and I always won the limbo because I was so small!"
The "can-do" attitude that her parents instilled in her meant that not being able to do something was never even in her thought process, "When you're given no limits and you're surrounded by confidence then you think 'Why couldn't I do that?' I had so many challenges but I didn't even think of it like that."
One obstacle that she struggled to overcome were the safety rules at her favorite theme parks, "I love going on roller-coasters, but from a very young age, I realized that I was turned away from all of these rides because I wasn't tall enough.
"When you are young and you just want to enjoy all the normal things at a park, I had to sit and be pulled aside and argue with the people who told me I can't ride.
Article continues below advertisement
"The hardest thing for me to overcome is often just to do what everyone else does. All the sports I can do easily - I have control over them – but the problem with being so unique is there is no one like you and when you come into a new situation people don't know how to act.
"There is no example for them to go off, I am literally paving the way for myself and hopefully millions of other people," said Jen.
Due to her physical strength and agility, the aerial gymnast has a wheelchair but is far from bound to it and keeps it as a prop rather than a necessity.
"I use a chair when I am out in public because it's dirty, and I can be up higher so people can see me," she explained. "But when I am at home or in the gym, which is so much of my life, I am out of it and on my hands."
Currently living in Los Angeles, Jen grew up in the tiny town of Hardenville, Illinois, which boasts a population of 500 "and a four-way stop," she joked, and went to high school in nearby Oblong.
Article continues below advertisement
"At the time I hated it because it was so boring, but now I absolutely appreciate it," said Jen, who never felt ostracized in the classroom or the sports field. "A lot of it was because of the way I was raised and my attitude, because if you are comfortable with yourself then other people will be. If I want to do something, I put my mind to it, I do the hard work and I get it. I have that confidence."
In May 2008, Jen was reunited with the gold-medal winning sister who she never knew but had idolized from afar growing up, and recently the pair of gymnasts got to workout together for the first time.
"We got to play in the gym when Dominique came here from Ohio and bounced on the trampoline, so that was a lot of fun," said Jen, who has carved a successful career for herself as a live performer.
"I do aerial flag work, trampoline, and tumble, and I going into more of an artistic, statuesque act. I want to get my whole body painted in an art gallery and getting roped off like a moving sculpture where it's all just strength," she explained. "I think that could be really cool."
Article continues below advertisement