Dominique Moceanu's Secret Sister Isn't Angry Over Being Adopted, Says 'Life Worked Out Perfectly'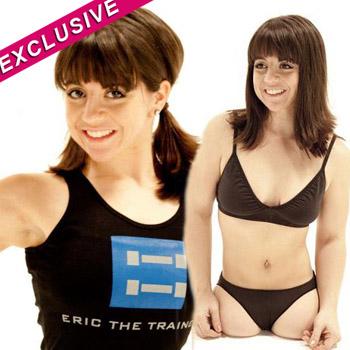 By Debbie Emery - RadarOnline.com Reporter
While she missed out on the chance to grow up with her blood sisters and sports idol Dominique Moceanu, inspirational gymnast Jennifer Bricker believes that being adopted at birth was the best thing that ever happened to her, RadarOnline.com can exclusively reveal.
As we previously reported, Bricker hit the headlines last month when it was revealed that she is the 'secret sister' to Olympic star Moceanu after their Romanian-born parents, who were fiercely ambitious for their oldest child - gave her up because she was born without any legs.
Article continues below advertisement
"I do think that it all worked out perfectly and as it was supposed to be, and I blossomed into the person that I was meant to be," 24-year-old Jen told RadarOnline.com in an exclusive interview.
"Obviously it was a little unfortunate that my sisters and I missed out on so many years but we still met when we were so young, and we all agree that it happened exactly the way it was meant to happen.
"That's why I have no hard feelings, how can I be bitter when I've had such an amazing life and I know for a fact that this is how it was meant to be?" she asked.
Instead of growing up with sisters Dominique and Christina in the house run by controlling parents Dimitry and Camelia Moceanu, Jen was raised in the tiny town of Hardenville, Illionios (with a population of 500), by adopted parents Gerald and Sharon Bricker, who taught her never to say "I can't."
"They are amazing and they don't even realize it, they are just good people. Every time they come across a situation, they always do the right thing," she revealed to RadarOnline.com.
Article continues below advertisement
"More and more as I get older I realize that I am unbelievably lucky to grow up with that mentality, I was taught to go after something if I wanted it – it was second nature.
"If I want to do something, I put my mind to it, I do the hard work and I get it. I have that confidence," Jen, who despite her disability played volleyball, softball and basketball, was state champion in power tumbling and 4th in the Junior Olympics.
She credits her parents for that "glass half full" perspective, telling RadarOnline.com: "It's not that I am lucky. Good people attract other good people, light attracts light. Misery loves company but it is the same way with happiness and light."
Bricker's loving upbringing is a stark contrast to Dominique's relationship with her controlling and abusive parents, who she filed for emancipation from in 1998, but eventually reconciled with.
Article continues below advertisement
"I got to meet my biological mother at the end of 2009, my biological father had passed before I got to meet him, but he knew that my sisters and I were reunited and he wanted to meet me and that made me feel good," Jen revealed.
"It was intense meeting my biological mom but very, very happy. She gave me a big hug and she kept staring at me and speaking in Romanian out of instinct. She couldn't get over how much we looked alike, all of us."
Now, the Romanian immigrant and the daughter she abandoned keep in contact but are not as close as the three sisters are.
"Camelia has a lot of new stuff going on in her life, she has a husband, a new job, she moved -- she is just trying to get used to her new lifestyle," she explained.
As for any deep-rooted resentment for being shunned because she was born without any legs,
"It is hard to be angry about something when I know that I am better off, it doesn't make sense to me because I had a better than average childhood.
Article continues below advertisement
"She is still trying to get over the guilt, even though I have told her 'Hey, I hold no hard feelings.'
"My mom says her heart goes out to her, she feels for her. My whole family is just so excited that I have met and have a relationship with my biological family.
"They have just adopted even more people into our family now!"
Bricker has continued to defy the odds and prove that nature is stronger than nurture by carving out a successful career as an aerial gymnast in Studio City, California.