Olympian Dominique Moceanu's 'Secret' Gymnast Sister: 'People Forget I Don't Have Legs!'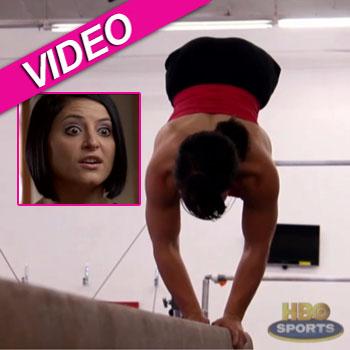 Article continues below advertisement
In her first major interview since the revelation on HBO's Real Sports With Bryant Gumbel, the outgoing girl from rural Illinois revealed how she tapped into her natural athletic ability long before she knew her sister was a sports star.
"People forget I don't have legs, and it's been this common trend I've noticed my whole life," Jen told Bryant Gumbel, as her small body burst with energy and enthusiasm for life.
"In the car, if I'm in the back seat and someone is in the front seat, they'll ask, 'Do you have enough leg room?' 'Sure, I'm good!' Because they'll forget," she laughed. "It amazes me, I am actually really thankful."
Growing up in the small town of Oblong, Illinois, with her adoptive parents Sharon and Gerald Bricker, Jen climbed trees like a tomboy and tried her hand at every sport from volleyball and basketball to gymnastics and softball, flying around the court or the field on just her hands.
Article continues below advertisement
When the lively youngster told everyone she wanted to take up tumbling, which combines the skills of artistic gymnastics with the trampoline, no one dared tell her she couldn't. "You kind of need those!" she giggled, referring to her lack of legs, but the disability didn't stop her.
"The girl who wasn't allowed to say 'can't' was on her way to becoming a genuine Olympic champion. She started at seven on the trampoline with her dad, and after a few falls she got the hang of it," explained HBO host Gumbel.
"In time she was competing and soon she was dominating. By high school, Jennifer Bricker was tumbling champion of the state of Illinois," he said.
"There isn't a disabled tumbling division," revealed Jen, who competed against able-bodied athletes. "At that time and probably still today, I was the only handicapped person to ever compete in power tumbling.
"If you were to ask me, 'Who was your childhood idol, did you have only one?' My one and only idol was Dominique Moceanu," revealed Bricker, who despite having posters of her inspiration on her wall, still didn't know they were blood relatives.
Article continues below advertisement
As RadarOnline.com previously reported, the girls' parents, Dimitry and Camelia Moceanu, came to the United States from Romania in the early 1980s to escape their homeland's brutal regime. Both had been athletes and were fiercely ambitious for their oldest child, to the point that they would sacrifice their youngest born when she was born without legs.
Moceanu was kept in the dark about her sibling until a then 20-year-old Bricker wrote to her saying she had been adopted and had discovered that they shared the same name. When she confronted her family, Dominique was told her baby sister had been born the day after her sixth birthday but was put up for adoption because she would require expensive medical care.
When Jen finally plucked up the courage to write to Dominique, her disability was far from the first thing on her mind.
"She told me she was an athlete and that I was her inspiration to start tumbling and doing gymnastics," said the gold medal winner, "And then on the phone call she said, 'Oh, I don't have any legs.'"
Jen joyfully recalled the conversation, "'She was like, 'Wait a minute, didn't you tell me you were an acrobat, and you did all these sports?' I could hear the wheels turning.
Article continues below advertisement