Legless Climber Summits Mount Kilimanjaro On His Hands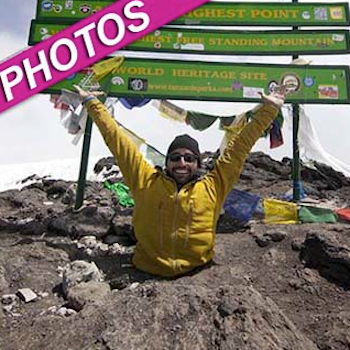 By Debbie Emery - RadarOnline.com Reporter
Think you can't achieve the "impossible?" Think again!
A man with no legs has proven there really Ain't No Mountain High Enough by climbing to the top of Africa's tallest peak on just his hands.
Battling freezing temperatures, debilitating altitude and grueling steep terrain, Spencer West, 31 of Toronto, Canada, successfully summited all 19,340 feet of Mount Kilimanjaro in Tanzania despite losing both his legs to a congenital disorder at the age of five.
Article continues below advertisement
West reached the rooftop of Africa on Monday after seven days of propelling himself by his arms with only a pair of gloves to protect them from the bare rocks, reported the Toronto Star.
"It was bittersweet and incredible to finally make it after all the hardships we went through to get there," said the brave climber, who did the mammoth feat with his friends David Johnson and Alex Meers. "I would say it was humbling, beautifully overwhelming."
On the rare occasions when the route - which transitions through seven microclimates including rainforest, snow fields and lunar desert – was impossible to do on his hands, he traveled on a custom-made wheelchair or when desperate, hopped on the back of native porters.
West was born with sacral agenesis, a birth defect that left his lower spine poorly developed and his legs permanently crossed, as if he was seated. Doctors recommended amputation, and took off his legs at the knees when he was only 3 years old, but further surgery two years later left his legs amputated below his pelvis.
Article continues below advertisement
"Doctors told us when he was a baby that he would never do much with his life," said his mother, Tonette West. "They said he should stick to activities like reading and writing."
Not surprisingly, "climbing mountains" was not on the doctors' list of recommended activities but that hasn't stopped 2'7" Spencer setting his sights sky-high and training for the past year.
Along with inspiring others to do the impossible, West is aiming to raise $750,000 to build a clean water program for nearly 20,000 Kenyans with Free the Children and is already three-quarters of the way to his goal.
Up to 35,000 people attempt Mount Kilimanjaro every year, with only half of them successfully reaching the summit. Although not nearly as deadly as Mount Everest, which recently took the lives of four climbers in one day, approximately 10 people die each year and 1,000 are evacuated, often due to the devastating effects of altitude sickness.
"We were nervous we wouldn't make it to the top, especially after my friends got sick," said West, who is also a motivational speaker with Me To We "But that's why the three of us came, to help each other."