Hero Mom Who Lost Legs In Tornado Saving Her Kids Dances On The Ellen Show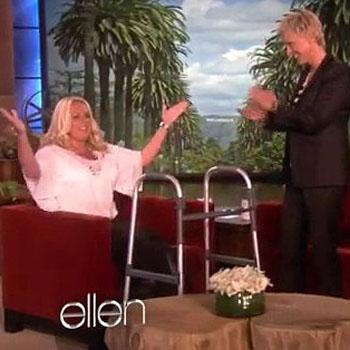 Heroic mom, Stephanie Decker lost both her legs in the Indiana tornado saving the lives of her beloved children.
And now, just two months after the tragic incident, the brave 37-year-old has appeared on The Ellen DeGeneres Show to dance for the first time — and RadarOnline.com has video of her amazing performance.
Decker had been told that it would be a year before she could walk again but she took a few tentative steps on the show using a walker. And when Ellen asked her 'will you dance with me?' the mother carefully balanced herself and stood up to jive to Maroon 5's Moves Like Jagger.
Article continues below advertisement
The endearing moment was met with cheers from the studio audience who listened as Decker spoke of the chilling moment the tornado ripped through her house on March 2 and completely destroyed it.
"I took the children and went to a part of the basement that I thought maybe would be safer and instantly windows started busting out of our home and I just wrapped them up in this blanket thinking debris may hurt them, tied them in it and just laid my entire body on them," Decker explained.
"I honestly thought to myself, 'How am I going to survive, how am I going to save these two kids?' I just told them, 'I love you' because I honestly didn't know if we were going to make this.
"The pain was excruciating. It felt as if a blow torch was on the lower half of your extremities. It was extremely painful but I just could not display that pain in front of those kids.
"They were screaming, 'Mommy, I can't live without you! I don't wanna die, please don't let me die!' and I said, 'You're not going to die, we're going to make it.'"
Article continues below advertisement
Decker's husband Joe and their children Dominic, eight, and Reese, five, were also on the show and watched a video message from Justin Bieber inviting the family to one of his concerts.
Stephanie also revealed that as she was being taken to the ambulance she managed to make a joke with her husband telling him, "Well there goes pedicures."