Michelle Obama, Reese Witherspoon & Victoria Beckham Honored By Mothers Hall Of Fame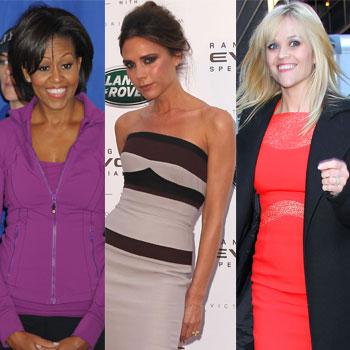 Article continues below advertisement
Mothers need respect and recognition more than ever before, explained IMHOF Executive Director, Mitchell Mortimer. "Too often mothers are pitted against each other. They need to celebrate the bond that motherhood creates among women and not get caught up in the labels and stereotypes.
"There is no such thing as a 'super mom' rather all moms are super!" he added.
Selected by the IMHOF Board of Directors, the yearly list will comprise a mix of women from different backgrounds who have all made motherhood headlines in a positive way.
Also on the coveted list are Ann Romney, Holly Robinson-Peete, Lisa Belkin, Stephanie Decker, Summer Sanders, and Meredith Olafson, who will each be presented with a special commemorative gift, and their names will join those of women from around the world in the IMHOF Hall of Fame.
The IMHOF is a non-profit organization founded by Texas businessman Doug Stroud that works to promote the positive messages of motherhood. Since its inception, more than 250,000 women have been inducted into its Hall of Fame by people who love them.