Exclusive
Reese Witherspoon's Mom Gets Restraining Order Against 'Bigamist' Dad's New Wife!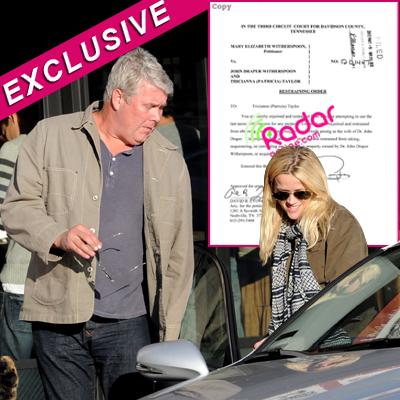 By Alexis Tereszcuk - Radar Entertainment Editor
Reese Witherspoon's mom is taking more legal action against the actress' father who she has accused of bigamy and RadarOnline.com has exclusively obtained the restraining order she filed against his new wife.
EXCLUSIVE DOCUMENTS: Reese Witherspoon's Mother Gets Restraining Order Against Dad's New Wife
Mary Elizabeth "Betty" Witherspoon, the Oscar winning actress' mother, was granted a restraining order on May 9 in Nashville, Tenn., against Tricianne Taylor, the woman who married Reese's dad John Witherspoon in April.
Article continues below advertisement
Reese Witherspoon's dad Sued For Bigamy - By Her Mom
"You are hereby enjoined and restrained from using or attempting to use the last name Witherspoon for any purpose," the restraining order said.
As RadarOnline.com previously reported, Betty Witherspoon said that her husband told her he does not remember marrying Tricianne Taylor and he is suffering from early onset dementia. She wrote in her lawsuit that she is very concerned that Taylor is trying to borrow money as Ms. John Witherspoon and will transfer her martial assets.
Betty Witherspoon also claimed that Taylor is living in the condo with John that is owned by her daughter Reese.
"You are further enjoined and restrained from obtaining credit or attempting to obtain credit posing as the wife of Dr. John Draper Witherspoon. You are further enjoined and restrained from taking, sequestering, or converting any personal property owned by Dr. John Draper Witherspoon, or acquired by him at any time."
Article continues below advertisement
Reese's father has been spotted with Tricianne Taylor at an Octoberfest event according to her mother's lawsuit and he also tried to "crash" Reese's March 2011 wedding to Jim Toth at her Ojai, Calif., home but she was turned away by security.
John Witherspoon and Tricianne Taylor have a court date of May 31, 2012 scheduled to "show cause if any you have why the marriage between you should not be annulled," in response to Betty Witherspoon's lawsuit.