Reese Witherspoon's Dad Sued For Bigamy - By Her Mom!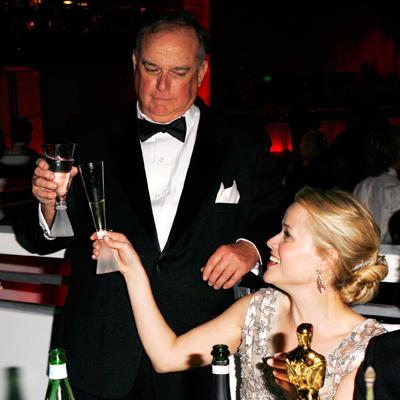 Article continues below advertisement
According to the lawsuit, there was an announcement in the Tennessean newspaper on March 2011 that said John Witherspoon married Tricianne Taylor, 60, in Gatlinburg, Tenn., and that they planned a summer reception in Nashville, where the Witherspoon family lives.
Betty Witherspoon said in the lawsuit that she still loves her husband and does not want a divorce. She said her husband is "troubled" and has battled problems with alcohol, hoarding and overspending, according to USA Today.
"When I confronted my husband, he said he didn't know who Tricianne Taylor was and that he did not remember getting married," her affidavit said. Betty said she tried to contact Taylor, but she refused to speak with her and did not respond to a letter that said John Witherspoon was married with two children and four grandchildren.
"But she clearly knows now that she is married to a man who is not divorced," the affidavit said.
Article continues below advertisement
In the lawsuit Betty Witherspoon said John Witherspoon attempted to bring Tricianne Taylor to Reese's wedding to Jim Toth at her Ojai home in April 2011.
"The security officers at the wedding refused to let her in because she was not on the guest list," the documents said.
They also stated that friends told Betty Witherspoon that her husband was spotted at an Octoberfest event with Tricianne Taylor.
Betty said she is very concerned about the financial situation of her husband. She said that she fears Taylor is trying to borrow money as Ms. John Witherspoon and will transfer her marital assets and she lives in the condo with John that is owned by his daughter Reese.
"I also fear for my husband's personal safety and the safety of my family," Betty Witherspoon said and the documents show she believes her husband is suffering from early onset dementia.
According to court records, John Witherspoon and Tricianne Taylor applied for their marriage license in Davidson County on January 11, three days before their wedding ceremony.
John Travolta Second Sexual Assault Accuser Documented Alleged Attack In Emails To Bosses