Sister Wives Star Kody Brown Says There'll Be No Fifth Wife, 'I Am Maxed Out'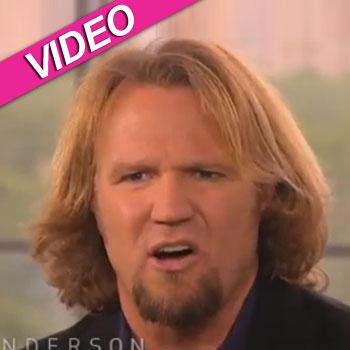 By Debbie Emery - RadarOnline.com Reporter
Four wives is more enough for this guy -- for now at least!
Sister Wives star Kody Brown revealed to Anderson Cooper on an upcoming episode of his syndicated talk show that he is no hurry to walk down the aisle again and add a fifth wife to his vast polygamist family.
"Certainly not right now," he told Anderson, and when asked if that was a "no," he expanded by explaining the intricacies of his way of life. "You guys have to understand that I actually answer to essentially a higher call.
Article continues below advertisement
"I am part of an order, a church. So there is this situation where I feel like I am maxed out, and I don't want to take another wife. I am not interested in that but there is a requirement, let's say I answer to a higher calling, and if that requirement comes along and I have a choice in it, then I will do it.
"I would prefer not to," he added.
While there's no new bride on the horizon, the Las Vegas, Nevada based family recently welcomed a new baby to the brood. The bouncing boy was born to Robyn, but all the wives take part in parenting.
"It doesn't matter," explained wife number three, Christine. "When he cries we all turn and try to make him happy except when it's time to eat."
Meri agreed, adding: "We feel like one of the moms definitely."
When it comes to their big move from their home state of Utah to Sin City Kody told Anderson that they are all loving their new home.
"It's great. It's actually free and easy. People apparently are tolerant and it's been a very good experience for us. We've got businesses that are going very well."
The full interview will air on Anderson on Wednesday, May 9. Visit AndersonCooper.com to find out when and where the show airs in your city.