Heroic Mother Loses Legs Saving Children From Tornado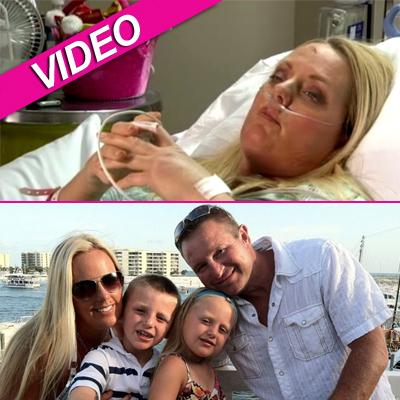 By Alexis Tereszcuk - RadarOnline.com Senior Reporter
With the roar of a tornado baring down on her home, a brave mother knew she had to take care of her little children, so she covered them with her own body, and while she saved their lives, she lost both her legs.
Stephanie Decker, 37, was home with her two children when the tornado ripped through her home in Louisville, Kentucky, and she grabbed them and rushed to safety in the basement of their home.
Article continues below advertisement
"I heard the roar and I heard it behind me," Stephanie told ABC News in an interview from her hospital bed. Her mothering instincts kicked in and she said "They needed me so I had to figure out what to do. I put them in a comforter and I tied the comforter, my daughter said 'Mom I don't like this' and I said 'I know honey.'
"I assumed I was safe, and I heard the roar like a train, and I heard it behind me, and I knew it was coming," she said. "And it was so loud that I knew that I needed to do something different. I knew staying put wasn't going to work."
Watch the video on RadarOnline.com
As the house crashed around them her children were safe, but her legs were crushed. After the tornado passed their home, leaving it in shreds, she said she tried to get help. "I was yelling, I have a punctured lung and seven broken ribs, yelling was really hard to do."
Her son, Dominic, ran for help and Stephanie knew she was injured. "I knew I was cut. I realized I'm barely attached or it's completely severed."
Article continues below advertisement
Even though she was in pain, Stephanie was relieved to see her two children alive. "If I didn't make it and I died right here today then I knew my kids were ok," she said.
Both of her legs were amputated, one just above the knee and the other just below the knee.
The swarm of deadly tornados that ripped through the south and the Midwest almost killed Stephanie Decker, but despite her injuries she is grateful to be alive with her children and is looking forward to the future.
"I'm not going to let this ruin my life."