Cruise Ship Disaster: Passengers Offered Compensation For Lost Baggage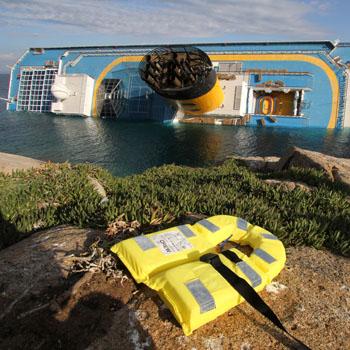 Article continues below advertisement
The offer was negotiated by a consumer group working with 3,206 passengers from 61 countries, none of whom were injured in the accident, reported the Huffington Post.
As RadarOnline.com previously reported, one American couple who was on the Costa Concordia for part of their honeymoon are already considering legal action.
"It was every man for himself," revealed Emily Lau, who was with her new husband Benji Smith. "The main thing is no one knew how to help because they were never trained. That is the cruise ship's fault."
Other passengers have revealed the emotional torment they are still suffering. "We're very worried about the children," said Claudia Urru of Cagliari, Sardinia, who revealed that her 12-year-old son is seeing a psychiatrist for trauma.
"He's terrorized at night," she told the Associated Press. "He can't go to the bathroom alone. We're all sleeping together, except my husband, who has gone into another room because we don't all fit."
Article continues below advertisement
In addition to the 11,000 euros, Costa also said it would reimburse uninjured passengers the full cost of their cruise, their return travel expenses and any medical expenses they sustained after the grounding.
The hundreds of crew members are not included in the deal, despite many of them being injured in the crash and now facing unemployment. It has been reported that some cash-strapped staff members even accepted money from rich Russians after the collision in return for coveted spots on life boats.
Also not included are the 100 people who were injured in the crash, or families of the dead and missing. Out of the 4,200 people who boarded the boat, 16 are confirmed deceased and 16 are still unaccounted for, including American couple Barbara and Jerry Heil, from Minnesota.
Numerous lawyers around the world are working with passengers to discuss their legal options, and a U.S. lawfirm is pursuing a class action lawsuit based in Miami.
Article continues below advertisement