Captain To Port: 'It's Just A Blackout,' After Cruise Ship Crashed Into Reef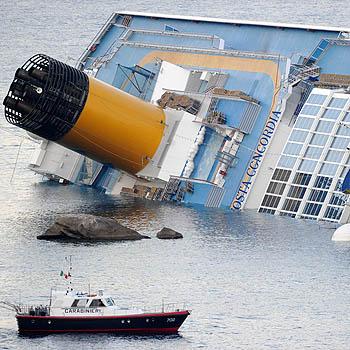 By Debbie Emery - Radar Reporter
Disturbing new audio has emerged from Italy revealing that the captain of the doomed cruise ship radioed the port insisting the Costa Concordia had simply had a blackout, a full 30 minutes after the vessel had crashed into a rocky reef.
An unidentified crew member -- who the AP has named as captain, Francesco Schettino -- can be heard radioing to Livorno port officials at 10:12 p.m. on Friday night, telling staff that he was checking out reasons for the blackout.
Article continues below advertisement
What he doesn't reveal is that the massive vessel -- which was carrying 4,200 passengers, including 120 Americans -- had already capsized on its side, reported the Washington Times.
Port officer tells Schettino that a relative of one of the ship's sailors had alerted them that "during dinner everything fell on their heads," and other passengers in the dining area reported plates and glasses slamming down onto diners.
Instead of alerting them of the severity of the situation, Schettino said: "We are verifying the conditions on board," and confirmed that the passengers had been told to put on life jackets.
The latest revelation comes in the wake of the captain's eyebrow-raising claims that he did not intend to jump from the $450 million ship after the crash, but instead "tripped," into the lifeboat.
"I had no intention of escaping," said the shamed seaman, as he revealed the scenario that lead him stumbling to survival while at least 11 people died. "I was helping some passengers put the life boat to sea."
Article continues below advertisement
As RadarOnline.com previously reported, officials were forced to suspend their search due to the shifting ship, but resuce efforts were resumed on Thursday in the desperate effort to retrieve 21 passengers who are still missing.
Schettino, who is currently under house arrest in his home in Naples, faces a slew of criminal charges including manslaughter and abandoning ship.
One of the latest negligent claims against him includes a revelation that rather being on the bridge at the time of the accident as he claimed, he was actually having dinner.
According to ABCNews.com, a young woman who said she was with the captain at the time of the crash has emerged as a key witness in the investigation.
Dominica Cermotan, a 25-year-old Moldovan hostess, revealed on her Facebook page that she wasn't on duty that fateful night but was with Schettino, other officers and the cruise director on the bridge.
She is one of the few people who is hailing him a hero, telling Italian TV, "He did a great thing, he saved over 3,000 lives," and added he stayed on deck until 11:50 p.m (The collision occured at 9.45 p.m.).
Article continues below advertisement
On Thursday, seven of the dead were identified by authorities as French passengers Jeanne Gannard, Pierre Gregoire, Francis Servil, 71, and Jean-Pierre Micheaud, 61; Peruvian crew member Thomas Alberto Costilla Mendoza; Spanish passenger Guillermo Gual, 68, and Italian passenger Giovanni Masia.
An American couple from Minnesota, Jerry and Barbara Heil, are still unaccounted for but their family refuses to give up the search. "We still have hope. We have hope for anything that will come. Whatever gods plan is, we're at peace with that," said son, Aaron Heil.