Cruise Ship Disaster: Captain Claims He Didn't Jump Ship, He 'Tripped' Into Lifeboat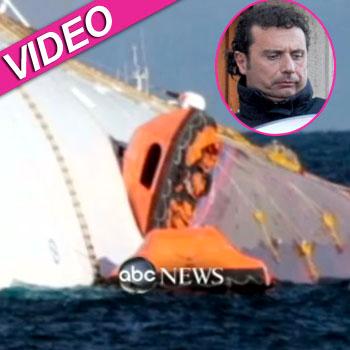 By Debbie Emery - RadarOnline.com Reporter
With the finger of blame in the cruise ship disaster pointing at the Costa Concordia's captain, the man who when it went down claims that he "tripped" into the lifeboat that took him to safety.
"I had no intention of escaping," said Francesco Schettino as he revealed the scenario that lead him stumbling to survival while at least 11 people died, reported ABCNews.com.
Article continues below advertisement
"I was helping some passengers put the life boat to sea. At a certain point the mechanism for lowering it, blocked. We had to force it. Suddenly the system unblocked itself and I tripped and I found myself inside the life boat with a number of passengers," Schettino claimed.
As RadarOnline.com previously reported, five days after the cruise ship capsized off the Tuscany coast, officials suspended ongoing rescue operations Wednesday as the ship continued to shift, endangering the divers and firefighters searching for the 22 people still missing, including an American couple from Minnesota.
In Tuesday's court hearing, Schettino argued that once the lifeboat hit the water it was impossible to get back on to the ship to save the passengers at peril.
While he claims he didn't intend to abandon ship, the 52-year old reportedly admitted to the court that he lied when he told officials that he had dropped anchor shortly after the Costa Concordia slammed into a rock to stabilize it.
Schettino also admitted that he made mistakes leading up to the crash, but claimed that the now-controversial course that cut close to the rocks had been set from the beginning.
Article continues below advertisement
The captain had been in jail since the accident while investigators question him for abandoning his vessel while thousands of passengers. A judge has now ordered him to be held on house arrest and he has returned to his Naples home.
The Costa Concordia was carrying more than 4,200 passengers when it went aground Friday night off the Tuscan coast of Italy.
Capt. Schettino was allegedly observed by many getting into a life boat and covering himself with a blanket so as not to be seen. The ship was reportedly four miles off course when it hit rocks that tore a 160 ft. gash in the hull.