Costa Concordia Captain Arrested, Abandoned Sinking Cruise Ship!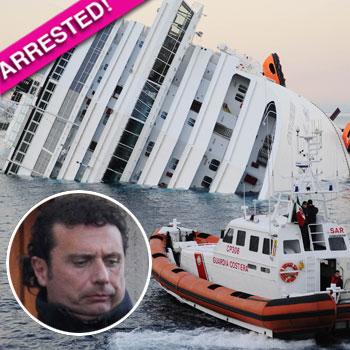 Captain Francesco Schettino abandoned his crippled cruise ship, numerous eyewitnesses have revealed, and now Italian authorities are officially investigating his actions.
Prosecutor Francesco Verusio said Sunday morning, "unfortunately, I must confirm that circumstance."
Schettino is also being held as possible manslaughter charges are being evaluated.
The shocking development comes as the bodies of two more victims -- an elderly couple -- were recovered from the ship, bringing the number of confirmed dead to five.
Article continues below advertisement
There are still 15 passengers unaccounted for, two of them Americans, in the disaster that has been compared to the Titanic.
As RadarOnline.com reported, the ship went aground Friday night off the Tuscan coast of Italy.
The Costa Concordia was carrying over 4,200 passengers and many reported a chaotic evacuation scene.
Capt. Schettino was observed by many getting into a life boat and covering himself with a blanket so as not to be seen. The ship was reportedly four miles off course when it hit rocks that tore a 160 ft. gash in the hull.