Modern Family Star Called Aunt & Uncle Who Survived Ship Disaster After Golden Globes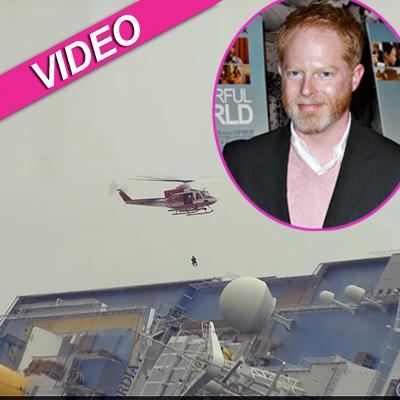 It turns out that the cruise ship disaster in Italy has a direct link to Hollywood, as the aunt and uncle of Modern Family star Jesse Tyler Ferguson are among the survivors of the disaster in which at least 11 people died and 24 others are still missing.
Arthur and Alex Beach, speaking via satellite from New Mexico, told Good Morning America's Robin Roberts on Tuesday that Ferguson, 36, called them from this past Sunday's Golden Globe Awards to make sure they were all right.
Article continues below advertisement
"When we got home Sunday evening ... I got home and I had a message from him," Jesse's aunt Alex told Roberts.
Alex said it's "terribly troubling" to hear reports Costa Concordia cruise ship captain Francesco Schettino didn't respond to reports of the crash in swifter fashion.
"I have been concerned about his actions ... I feel there is some liability there," she said.
If he had ordered evacuation immediately, everyone could have gotten off the ship, Alex said, adding crew members were exceptionally helpful in the dire situation.
Said Arthur: "If he violated the rules and policy, he should be penalized for it, in whatever manner is appropriate."
Alex said that the scene in trying to board a lifeboat was chaotic and disorganized.
"It took five tries to get in. People were pushing and shoving and screaming -- you really did have to be aggressive and push your way," she said.
As RadarOnline.com previously reported, Schettino made his first court appearance at a closed hearing in Italy Tuesday, as search efforts continue for the 24 people still missing after the luxury cruise ship capsized off the Tuscany coast Friday night.
Article continues below advertisement
Schettino, 52, was arrested Saturday in connection with investigation of manslaughter, abandoning ship and causing a shipwreck. Prosecutors Tuesday called the captain's behavior Friday reckless, cowardly and deadly, adding he might face up to 15 years in prison in connection with the incident, in which at least 11 people have been declared dead.
Follow RadarOnline.com's Managing Editor David Perel on Twitter at @IMPerel.