Cruise Ship Disaster: Rich Russians Allegedly 'Bought A Life Boat' To Escape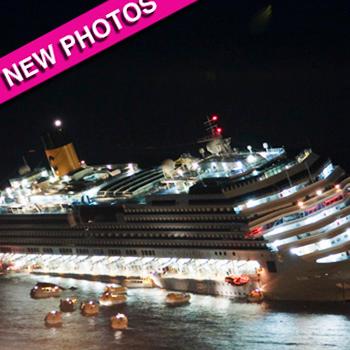 By Debbie Emery - RadarOnline.com Reporter
As passengers desperately struggled to escape the capsized Costa Concordia cruise ship, a group of rich Russians reportedly bribed crewmembers to get coveted spots on the life boats.
Italian officials are reportedly investigating whether expensively dressed Eastern Europeans stuffed handfuls of cash into the pockets of cruise line staff after the massive vessel hit a reef on January 13, reported the Sun.co.uk.
Article continues below advertisement
A resident who lives on the island of Giglio near where the ship capsized four miles off course has revealed that instead of seeing women, children and wounded when the first life boats reached dry land, she was shocked to come face-to-face with, "healthy men and elegant women in evening gowns who were speaking Russian," Franca Anichini told German media.
Other eye witnesses claim to have seen Russians from first-class cabins paying off crewmembers "as the disabled were left to fend for themselves".
As RadarOnline.com previously reported, the wealthy passengers weren't the only ones who pushed their way onto the boats ahead of those who were more deserving.
"I had no intention of escaping," said the ship's Captain, Francesco Schettino, who claims he "tripped" into a rescue boat. "I was helping some passengers put the life boat to sea. At a certain point the mechanism for lowering it, blocked.
"We had to force it. Suddenly the system unblocked itself and I tripped and I found myself inside the life boat with a number of passengers," he claimed.
Article continues below advertisement
The latest revelation came as new photos emerge of the stricken $450 million ship laid lilting in the water as lifeboats spilled from its side. Vacationers at the rear on the starboard side can be seen waiting patiently to make their way to safety.
Twelve days after the horrific accident, rescuers have given up hope of finding more survivors, but will continue to search until every reachable area has been covered.
"Finding someone alive today belongs in the realm of miracles," the head of Italy's national civil protection agency, Franco Gabrielli explained.
"But since none of us, at least inside, wants to give up on that possibility, we will continue."
A total of 4,200 passengers, including 120 Americans, boarded the doomed vessel, 16 have been confirmed dead and 16 more are still missing.
Schettino remains under house arrest, pending charges of manslaughter, shipwreck and abandoning ship.