Cruise Ship Disaster: Survivors Reveal Chaos, 'It Was Every Man For Himself'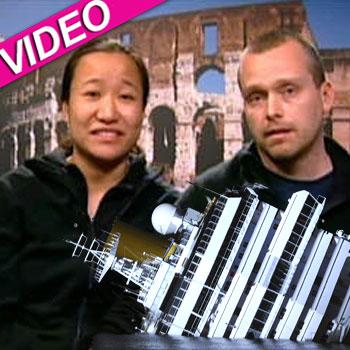 By Debbie Emery - RadarOnline.com Reporter
It has been a week since the mighty Costa Concordia cruise ship crashed into a reef off the coast of Italy, sending 4,200 passengers plunging into the sea. Now two of the American survivors of the disaster are speaking out about their near-death experience and the dream honeymoon that turned into a nightmare. Newlyweds Benji Smith and Emily Lau, of Boston, Massachusetts, are now considering taking legal action against the cruise ship company, who they think should take some of the blame for the accident along with Captain Francesco Schettino.
Article continues below advertisement
As RadarOnline.com previously reported, 11 people are confirmed dead and 21 are still missing - including American couple Jerry and Barbara Heil - after the $450 million ship capsized on January 13. Lau, 27, and Smith, 34, appeared on Good Morning America on Friday to voice their anger against the cruise company, the captain and even the U.S. Embassy over how the disaster was handled.
"It was every man for himself," revealed Emily. "The main thing is no one knew how to help because they were never trained. That is the cruise ship's fault." Currently under house arrest while Italian authorities investigate the crash, Schettino was reportedly away from the bridge dining with a 25-year-old woman when the ship hit the reef four miles off course.
He has been accused of abandoning ship, but claims he "tripped" into the lifeboat that took him to safety. However, Lau is not accepting any of his excuses. "'To the captain I'd say, 'What a coward you are,'" she told GMA.
"People who were left behind -- we were helping each other to get out of there and stay alive. And he who is responsible for all of us left." The newlyweds were relaxing in their cabin when the huge ship began to tilt, they grabbed life jackets and dashed to the fourth deck, where they found a chaotic scene.
Article continues below advertisement
"There was screaming, children crying and a lot of confusion," explained Smith. "The official announcement from the loudspeaker didn't come on for 20 to 25 minutes." "Even at that point, the announcement said there's been an electrical fault in the generators," he said. "Everyone knew this was nonsense, because the boat was leaning to the side, and since when does an electrical problem cause the boat to tilt?"
As the ship was plunged into darkness, Lau and Smith were able to escape by tying ropes and sheets together and lowering them down into the ship's hole, where they were later rescued by a lifeboat. Costa Cruises stated earlier this week, that "human error" was to blame after captain Francesco Schettino embarked on an unauthorized maneuver prior to the capsize but the couple claim the company was grossly unprepared for such an incident.
Article continues below advertisement
"We have never had any drills," explained Lau. "We were asked to go for a safety meeting, and it was nothing but a sales pitch for excursions. "Costa Cruise line is trying to make it sound like it's all Schettino's fault. Yes, it's his fault, but it's not the end of the story."
Even once they reached dry land, the passengers' hell wasn't over as they were "treated like animals" and herded into an inn in Giglio before being put on a boat the next morning without being told where they were going. Sixteen hours later they finally made it to a hotel near Rome airport. "Someone from Costa finally came a few hours later, but said there was nothing they can do. There were no offers of help. There were no kind words," said Lau.