Cruise Ship Disaster: Con Artists Try To Cash In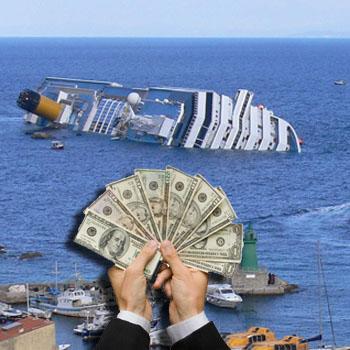 Article continues below advertisement
As RadarOnline.com previously reported, the massive liner capsized on January 13 off the coast of Italy after it crashed into a reef four miles off course. The ship carried 4,200 passengers (120 of which were from America), so far 16 bodies have been found and 16 are still missing.
The latest revelation in the watery disaster came after New York lawyer Peter Ronai, who speaks Hungarian and is representing six Hungarian survivors, stumbled across a suspicious claim.
The Manhattan attorney was in Budapest when he was approached a few days ago and asked to take on another client, he explained.
"I got an email saying, 'Can you please help us? My daughter is missing. She was on the Concordia,'" Ronai said. "I ran out to her house and basically she told me her 5-year-old granddaughter was missing, too."
The distraught woman claimed that she didn't know what her daughter, Eva Fiedlerne Puspoki, was doing on the ship, but she begged Ronai to meet with her daughter's boyfriend, who corroborated the story.
Article continues below advertisement
Rather than heartfelt concern over 38-year-old Puspoki's safety, the pair asked how much money they could expect to profit from her death.
The next day they approached the lawyer and said they'd been mistaken, and that the little girl wasn't missing after all.
"The story started changing and changing, more and more," said Ronai, who was growing increasingly suspicious. He told the boyfriend that if he did not see the child, he would have to report a missing person to the police.
The next time he went to visit the alleged boyfriend, the "granddaughter" had appeared and Ronai brought the police with him, who interrogated the child.
When asked the last time she had seen her mommy, the five-year-old replied: "I saw her today. I saw Mommy today."
The scenario got increasingly shady when the "missing" woman then appeared and still adamantly claimed she had been on the ship, saying she had hurt her leg when she jumped to safety but showed no sign of injury.
Article continues below advertisement
"They confessed to everything after questioning. They confessed to pulling this scam to make money," Ronai revealed. "The police arrested them. They didn't take them away to jail, but they'll face criminal procedures."
The high-profile injury lawyer doesn't think these will be the last con artists to take advantage of the devastation for their own financial gain.
"They're called 'jump-ons.' It's normal, this is just on a grander scale," he explained. "People will do horrible things for money.
"I had contacts at the embassy spending money looking for these people when they could have been looking for others."
According to ABCNews, the total bill for their deception is approximately $10,000, which went towards a plane ticket, a private investigator, taxis and mammoth cell phone bills.
For those passengers who were genuinley onboard at the time of the crash, parent company Carnival Corp. has offered them a 30 percent discount on vacations, RadarOnline.com reported.
Article continues below advertisement
"The company is not only going to refund everybody, but they will offer a 30 percent discount on future cruises if they want to stay loyal to the company," a company spokesman said, noting they've been contacting the survivors via phone.
The cruise ship's captain Francesco Schettino, remains under house arrest while he is being investigated of manslaughter and abandoning ship. As RadarOnline.com previously reported, Schettino denies abandoning ship, insisting instead that he "tripped and fell into the lifeboat."