Devastating Tornadoes Cause Chaos In Dallas, Fling Tractor Trailers Through The Air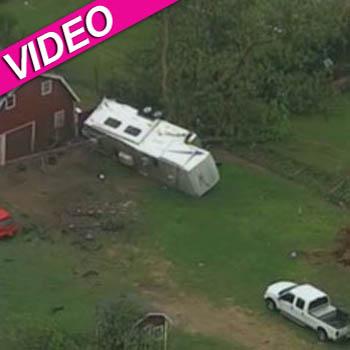 By Debbie Emery - Radar Reporter
A series of powerful tornados have ripped a path of destruction through Dallas and the surrounding areas, flinging massive tractor trailers through the air as if they were toy cars, and RadarOnline.com has the amazing video.
The extreme weather system hit the Texas city on Tuesday and the first funnel cloud was spotted on the ground at 1:01 p.m. in Ellis County, reported ABCNews.com and residents in Dallas, Johnson and Tarrant counties were all urged to take shelter.
Article continues below advertisement
A twister near the Dallas-Fort Worth International Airport was so strong that it tossed trailers in the air and spun them around, before smashing them back onto the ground and leaving them flattened and crumpled in its wake. 
All flights from the American Airlines hub were grounded and waiting passengers were herded away from the windows.
"We have all kinds of shelters. We use all the available space we have including stairwells, store rooms and restrooms, that we can use," DFW airport spokesman David Magana told CNN. "We're not shy about moving people around."
Further tornadoes were reported in Arlington, home of the Dallas Cowboys, the Texas Rangers and the Six Flags amusement park, which had reported damage.
Red Cross workers are preparing to help the stricken areas but are still taking cover themselves until it is safe to go outside.
Unlike other states in tornado alley across the midwest, homes in Dallas do not usually have basements so residents were urged to stay in the middle of their homes away from the windows and doors.