Cruise Ship Victims File Lawsuit Demanding $460 Million Amid Outrage At $14,500 Compensation Offer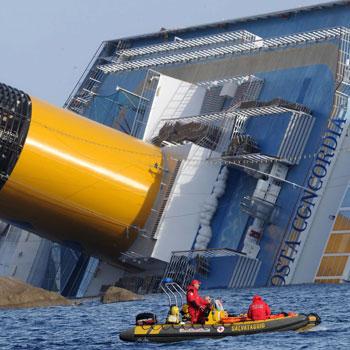 A multimillion dollar lawsuit has been filed by victims of the shipwrecked Costa Concordia cruise ship amid anger at the compensation being offered by the ship's owner.
In what is believed to be the first of many anticipated civil filings by passengers against Carnival Corp., the Miami-based company that owns the Italian cruise operator, attorneys for six passengers filed legal paperwork in Miami's federal court on Friday requesting $450 million in punitive damages and $10 million in compensatory damages.
Article continues below advertisement
The complaint said the plaintiffs were "in terror of catastrophic injury, death, drowning, having been placed in a situation where common sense said the vessel was sinking but the orders from the crew were to return to their cabins."
On Thursday, a Peruvian crew member filed suit in Chicago looking for $100 million in damages but also seeking class-action status to cover all crew and passengers.
The lawsuits came amid outrage at Costa Crociere SpA offering just $14,500 in damages to the 3,206 passengers who were not physically injured plus the cost of the cruise, travel and medical expenses.
Attorney Marc J. Bern told AP that Costa's offer was woefully inadequate. "There is not one uninjured person on that ship, whether or not they have a physical scratch," he said. "The anxiety, the stress for many of these people will never leave them."
The vacation cruise liner capsized off the coast of Italy on January 13. The death toll for the tragedy reached 17 on Saturday after a body of a woman, believed to be a crew member, was pulled from the wreckage.