Man Dies After Texting Wife From The Top Of Mount Kilimanjaro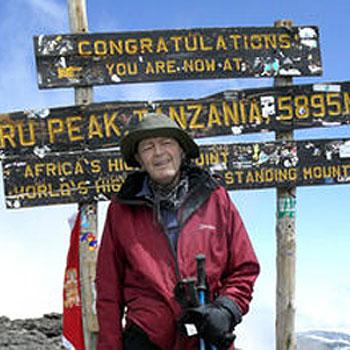 A 69-year-old British man collapsed and died just moments after fulfilling his lifelong dream of climbing Mount Kilimanjaro, RadarOnline.com has learned.
Alistair Cook texted his wife to tell her he was "exhausted but so happy" that he'd made it to the top of the 19,341-foot peak, then dropped dead of a fatal heart attack while making his descent, reported the Express.co.uk.
The trip to the rooftop of Africa had been planned as an early birthday celebration for Cook, from Leicestershire, England, who would have turned 70 on Monday.
Article continues below advertisement
The experienced hiker reached the summit of Kilimanjaro, which is located in Tanzania and is Africa's highest mountain, at 9.50 a.m. on September 11 with four other members of his group after a grueling trek that takes most climbers six days.
Cook's wife, Vicky, paid tribute to the father-of-two on Thursday, who had trained for 18 months for the challenge. "He had lots of energy and enthusiasm – a passion for life," she said.
Every year approximately 22,000 climbers attempt to reach the snow-covered summit, and while many suffer from altitude sickness causing around 1,000 evacuations, on average only 10 people die a year on the mountain.
Last year, tennis star Martina Navratilova was famously defeated by Kilimanjaro and ultimately hospitalized in Kenya with an accumulation of fluid in her lungs after suffering from high-altitude pulmonary edema.