The Big Reveal! Jessica Simpson Shows Off Trim Figure And Baby's First Bikini Shot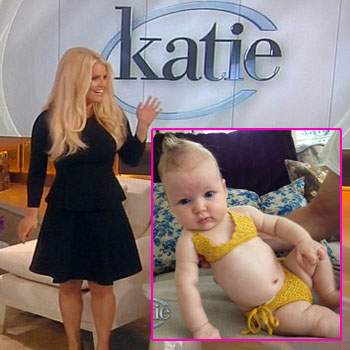 Article continues below advertisement
She said: "I almost peed my pants. I'm very nervous."
Couric also treated her viewers to a sneak peek of the first Weight Watchers commercial featuring Simpson as their new spokesperson.
In the TV ad that premieres Monday, Simpson, 32, says: "There is a lot of pressure to lose weight but I'm not a supermodel I'm just Jessica trying to eat real food in the real world…
"So I knew Weight Watchers was the only way to go. It's working. I'm on my way and it feels amazing."
Simpson is shot from the shoulders up. Asked why she didn't reveal her body the singer said: "I really didn't want it to be about my weight because I know that everybody has…their own issues and I really wanted it to be about the spirit of Weight Watchers and how I was feeling and I wanted to talk directly to people.
PHOTOS Jessica Simpson And Eric Johnson Get Caught In The Rain
"I didn't want the big body reveal moment. It's not really who I am...."
Article continues below advertisement
Simpson refused to reveal exactly how much weight she has lost so far saying it's "not about the numbers." But she did say she has 10 pounds left to go.
In addition to following the eating plan Simpson is working out by walking with Maxwell in tow. She says: "I basically take her with me, whether it's strapping her on me or strolling around the neighborhood."
Jessica Simpson Confesses, 'I Didn't Realize The Weight Didn't All Come Off With The Baby!'
Jessica Simpson 'Excited' To Show Off Baby Weight Loss