Happy 50th Birthday, 007! Seven Things You Didn't Know About James Bond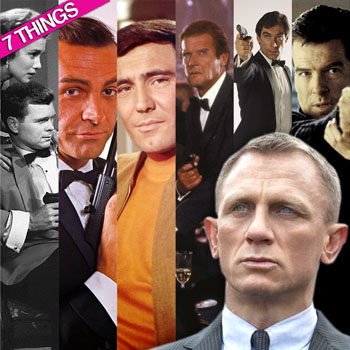 By Debbie Emery - RadarOnline.com Reporter
"My name is Bond, James Bond."
This immortal introduction of has been uttered by a string of dashing stars for half a century, sending beautiful women weak at the knees and master criminals quivering in fear.
Friday marks the 50th anniversary of the London premiere of Dr. No, when on October 5, 1962, Sean Connery first brought 007 to life and a legendary martini-drinking, sports car-driving lady killer was born.
Article continues below advertisement
Since then seven different actors have played the role in 23 movies, and the magic of Bond seems to gain momentum with every blockbuster movie.
With the latest installment of the timeless franchise, Skyfall starring Daniel Craig, Naomie Harris and Berenice Marlohe, hitting movie theaters in the U.S. on November 9, RadarOnline.com is presenting the seven essentials things you didn't know about the world's most famous fictional spy.
7. James Bond is the brainchild of English author, Ian Fleming, who as a Navy Intelligence Officer born to a political family and educated at Eton and Sandhurst shared many similar traits to his trademark character, with other aspects based on people he met during World War II. His first Bond novel, Casino Royale, was a fast hit when it was published in 1952 and was reprinted three times to cope with the demand. Fleming went on to pen 11 books and two short stories collections on the Secret Intelligence Service agent between 1953 and 1966.
Article continues below advertisement
A heavy smoker and drinker all his life, Fleming collapsed from a heart attack at age 56 after lunching with friends at a golf club in Canterbury. Ever the gentleman, his last recorded words were an apology to the ambulance drivers for having inconvenienced them, saying "I am sorry to trouble you chaps. I don't know how you get along so fast with the traffic on the roads these days."
6. The name of the famous spy has become intrinsically tied with the clean cut smooth talking English Casanova, but the moniker was actually inspired by American ornithologist James Bond, a Caribbean bird expert who is best known for writing Birds of The West Indies. As an avid birdwatcher, Fleming believed that the "brief, unromantic, Anglo-Saxon and yet very masculine name" smoothly personified his signature character.
The big screen is far from the only way Fleming's hero has been portrayed. In 1954, Casino Royale was adapted into an hour long television special at a cost of just $1,000 for the rights paid to Fleming. Moonraker, You Only Live Twice, Die Another Day, Goldfinger and From, Russia With Love have all aired on radio stations around the world, spanning from 1956 to 2012. Bond has also been immortalized in colorful print with a variety of comic books and cartoons being published by both British newspapers and Marvel comics.
Article continues below advertisement
5. Longtime Bond producer Albert "Cubby" Broccoli was a founding member of EON Production, which first brought Dr. No to movie theaters and saw the franchise grow from a low-budget action film to a back-to-back box office global hits. The New York filmmaker's familiar name stems back to the Italian-American family's vegetable business and Cubby claimed one of his uncles brought the first broccoli seeds into the United States in the 1870s. Since his death in 1996, his daughter, Barbara Broccoli, and stepson, Michael Wilson, have co-produced the subsequent Bond films.
4. Scottish actor Sean Connery was cast in the now-coveted role of 007 despite Fleming complaining that he "looked like an overgrown stuntman," - and wasn't even English – but he was won over by the 6'2" hunk after the success of Dr. No. Connery starred in seven films in total, ending his run in the role in 1983 with Never Say Never Again opposite Kim Basinger, 12 years after he initially hung up his gun in Diamonds Are Forever.
Article continues below advertisement
His successors - George Lazenby (who only played the part for one film before being ousted), Roger Moore, Timothy Dalton, Pierce Brosnan, and current star, Daniel Craig – have all met with a variety of backlash and praise, with every Bond fan professing their favorite for often passionate and personal reasons.
Craig's casting in 2005 for Casino Royale caused a controversy initially because the 5'10" blond actor didn't fit the stereotype of the tall, dark handsome hero, but the 44-year-old actor brought a new edge to the spy by portraying him as an anti-hero. "The question I keep asking myself while playing the role is, 'Am I the good guy or just a bad guy who works for the good side?" asked Craig.
3. With the announcement of each film comes the anticipation of a sexy new Bond girl, with a slew of beauties including Ursella Andress, Britt Ekland, Honor Blackman, Diana Rigg, Jane Seymour, Halle Berry, Eva Green and Olga Kurylenko all falling for Bond's notorious charm (and more often than not, falling into his bed).
Scriptwriters have been having fun with sexual innuendoes surrounding Bond girls for five decades with characters such as Pussy Galore, Xenia Onatopp, Holly Goodhead and Kissy Suzuki all epitomizing "ubiquitous symbols of glamour and sophistication" whether as allies, enemies or mere eye candy.
Article continues below advertisement
2. Where there is a hero there is always a villain, and nobody creates a bad guy like the Bond movies. Whether determined to take over the world, destroy London with a nuclear missile, kill James in a humiliating sex scandal, run a global drug operation, trigger a massive earthquake or invade South Korea, 007's nemesis' always have lofty and far-fetched ambitions that it is his job to stop.
Like Bond girls, the evil genius' have been played by an impressive collection of Hollywood stars, such as Christopher Walken, Telly Savalas, Christopher Lee, Robert Carlyle, Sean Bean, and currently, Javier Bardem.
Daniel Craig & Rachel Weisz Spotted For First Time Since Surprise Wedding
1. Just as integral as the stars are the deadly gadgets, exotic equipment and vehicles that Bond gets to play with in each film. The high-tech toys first became prominent in From Russia, With Love and Goldfinger, and have since gotten increasingly outlandish! Presented and comically demonstrated by Q, they have included an exploding Parker pen, a crocodile mini submarine, a grisly briefcase lined with sniper rifles and deadly explosives, a laser firing Rolex watch and set of bagpipe that doubled as a flame-thrower.
Article continues below advertisement
When it comes to wheels, 007 is equally as well endowed having broken speed limits around world in Bentleys, Aston Martins, BMW, Rolls Royce and even a Lotus Esprit that converted into a submarine. Always bulletproof, they often boasted spectacular additions such as machine guns, rocket launchers, spike ejecting tires and ejector seats.
RELATED STORIES: