Daniel Craig Slams The Kardashians: Calls Them 'Idiots'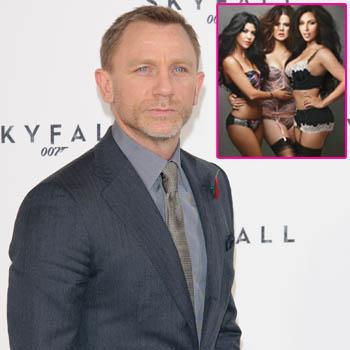 By Debbie Emery - RadarOnline.com Reporter
It's safe to say there's at least one guy in the world who won't be keeping up with the Kardashians.
James Bond has decades of experience dealing with the most evil villains in the world, but none of the bitter confrontations compare to the venom that 007 star Daniel Craig saves for the Kardashians!
In a candid interview with the January issue of GQ magazine, the British actor branded the famous family as "f**king idiots," and RadarOnline.com has a preview of his no holds barred interview.
Article continues below advertisement
The cutting comments came as 43-year-old Craig opened up for the first time about his marriage to fellow Brit, Rachel Weisz, who he secretly wed last June.
"I think there's a lot to be said for keeping your own counsel," he told the monthly men's magazine.
"It's not about being afraid to be public with your emotions or about who you are and what you stand for. But if you sell it off it's gone. You can't buy it back - you can't buy your privacy back.
"'Ooh I want to be alone.' F*** you!" he said vehemently. "We've been in your living room. We were at your birth. You filmed it for us and showed us the placenta and now you want some privacy?"
As an example of his disgust with celebrities who sell out so blatantly for fame, Craig name checked Kim Kardashian and her clan.
"Look at the Kardashians, they're worth millions. I don't think they were that badly off to begin with but now look at them," he explained.
Article continues below advertisement
Boycott, What Boycott? Kim Kardashian's Divorce Is Ratings Gold For Reality Show
Kim Kardashian 'Guilted' Former Hubby Kris Humphries To Appear On Camera