Sexy Russian Spy Anna Chapman Mocks Her Espionage Scandal On Catwalk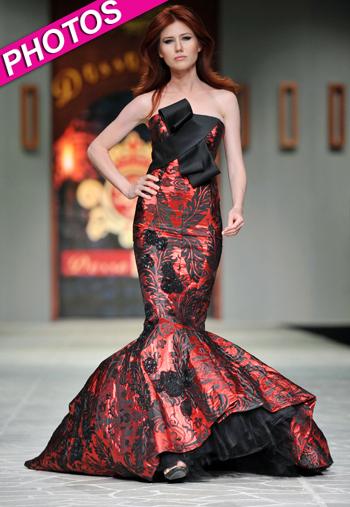 By Debbie Emery - RadarOnline.com Reporter
The ravishing Russian redhead who was deported for being a real-life spy two years ago has once again mimicked her espionage past by sashaying down a catwalk flanked by two male models posing as secret service agents — and RadarOnline.com has the photos.
Dressed in a figure-hugging black and scarlet fishtail gown that showed off her killer curves, Anna Chapman made a special appearance at the fashion show in Antalya, Turkey last Friday after designer Hikmet Eraslan made a donation to her charity for children with poor eyesight.
Article continues below advertisement
In a scandal that was ripped straight from the pages of a James Bond script, 30-year-old Chapman first made headlines when it emerged that she and her counterparts were allegedly sent to the U.S. as part of an undercover spy ring to gather important American intel.
She was investigated by the FBI while living in New York and arrested on June 27, 2010, along with nine others after they were exposed as Russian spies. After being deported back to her homeland a few weeks later, the glamorous under-cover agent was greeted with a hero's welcome and has since become a huge star there, gracing magazine covers and walking in Russia's Mercedes-Benz Fashion Week.