PHOTOS: Russian Spy Mocks Espionage Charges, Holds Prop Gun To Model's Head On Runway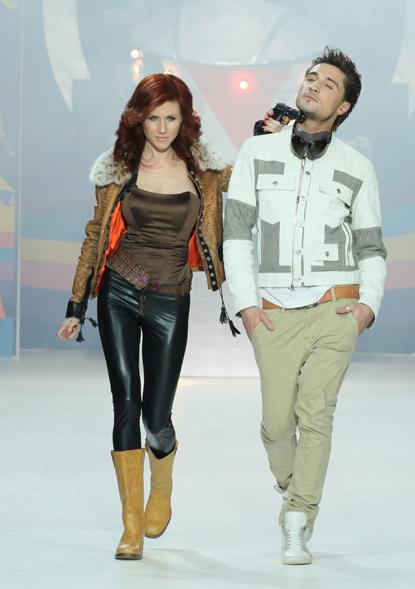 Anna Chapman, the sexy Russian spy who was deported from the United States after being charged with espionage, mocked herself by walking the runway while holding a prop gun to a model's head.
RadarOnline.com has the photos of Chapman with a prop gun holding Russian pop singer Dima Bilan "hostage" on Sunday during Fashion Week in Moscow.
Ripped straight from the pages of a James Bond script, Chapman and her counterparts were allegedly sent to the U.S. as part of an undercover spy ring to gather important American intel.
Article continues below advertisement
In an indictment from the FBI, the agency claims to have intercepted a message exposing the Russian spy ring stating, "You were sent to the USA for long-term service trip. Your education, your bank accounts, car, house, etc – all these serve one goal; fulfill your main mission, i.e. to search and develop ties in policymaking circles in US and send intels (intelligence reports) to C (Center)."
The 28-year-old redhead was investigated by the FBI while she was living in New York and arrested on June 27, 2010, along with nine others after they were exposed as Russian spies.