Face Transplant Man Who Was Shot In The Head Able To Go Out Again After 15 Years As A Recluse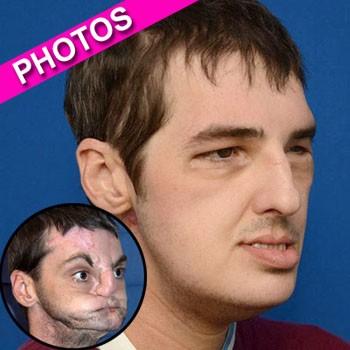 University of Maryland Medical Center officials Tuesday said they've had success in rebuilding the face of a 37-year-old Hillsville, Virginia native who was disfigured in a 1997 gun accident.
Richard Lee Norris can eat with his mouth, taste and smell more than seven months after a landmark 36-hour surgery this past March designed to put his face together "in the most aesthetic manner possible," doctors said, noting the mug came from an unnamed donor.
Article continues below advertisement
In a statement released by the university, Norris said his quality of life has exponentially improved since the March procedure, in which doctors replaced his teeth, tongue, skin and jaws.
"For the past 15 years I lived as a recluse hiding behind a surgical mask and doing most of my shopping at night when less people were around," he wrote. "I am now able to walk past people and no one even gives me a second look. My friends have moved on with their lives, starting families and careers.
Watch the video on RadarOnline.com
"I can now start working on the new life given back to me."
Dr. Eduardo D. Rodriguez, who led the operation which more than 100 health professionals added their expertise to, said Norris has exceeded his expectations and shown great courage and commitment in his battle.
The groundbreaking surgical procedure could be applied to future operations on injured servicemen, officials said.