Man Who Shot Himself In The Head Gets World's Most Extensive Face Transplant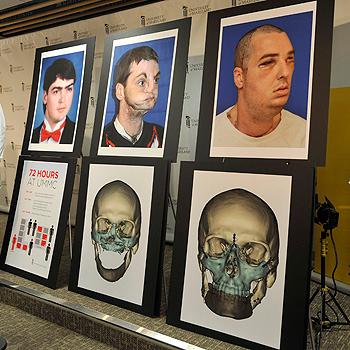 By Debbie Emery - RadarOnline.com Reporter
A Virginia man who has had to hide his hideously disfigured face behind a mask for the past 15 years after it was shattered in a gun accident can finally go out in daylight again thanks to a groundbreaking 36-hour surgery.
In the world's most extensive face transplant, which began in the early hours of March 19, Richard Lee Norris got fresh facial tissue from his hairline to his neck, a new upper and lower jaw, teeth and a portion of a tongue, reported MSNBC.com.
Article continues below advertisement
The 37-year-old has made leaps and bounds in his recovery, and just three days after he woke up from the mammoth surgery he asked for a mirror to look at his reconstructed face, and is already able to move his jaws, open and close his mouth, and even brush his teeth and shave.
Norris lost his original visage when he shot himself in the face in 1997 in a tragic accident that destroyed his nose, lips and most movement in his mouth – leaving him with a seriously disfigured face.
"This accidental injury just destroyed everything. The rest of his friends and colleagues went on to start getting married, having children, owning homes," said Dr. Edwardo D. Rodriguez, chief of plastic, reconstructive and maxillofacial surgery at the R Adams Cowley Shock Trauma Center at the University of Maryland Medical Center, who led the virtual army of 100 doctors, scientists and other university medical staff ranging from plastic surgeons to craniofacial specialists teamed up for the operation.
Article continues below advertisement
"He wants to make up for all of that. He's been living behind a mask. This is clearly a transforming event."
Norris first came to the medical center five years ago, after 12 plastic surgeries had left him still afraid to show his face in public in fear of scaring children or getting curious stares from their parents.
While he now looks very different from his original face, Norris' new look is a combination of his own features and those of his donor, since his new tissue will drape over his cheekbones and his donor's jawbones.