Anderson Cooper Slams Star Jones For Accusing His Coming Out As 'Being A Ratings Ploy'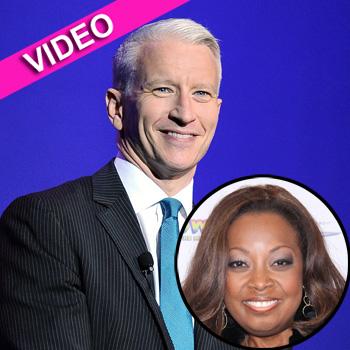 By Debbie Emery - RadarOnline.com Reporter
Anderson Cooper rarely has a harsh word for anyone on his talk show, but Star Jones has become the object of his wrath after she accused him "out of the blue" of coming out just to boost ratings on his talk show.
"Star Jones of all people, I haven't thought about Star Jones in I don't know how long. I was unaware she was even on TV still but she apparently shows up on a morning show on TODAY or Good Morning America," he quipped while chatting on-air Thursday with longtime friend and Bravo host, Andy Cohen.
Article continues below advertisement
Cooper, 45, revealed that the former View co-host's comments not only "annoyed" him, it also annoyed his mother, socialite Gloria Vanderbilt, who "brought it up" to him.
As RadarOnline.com previously reported, the CNN anchor officially announced the news that he is gay in an email to his fellow journalist and friend Andrew Sullivan on the Daily Beast last July.
"The fact is, I'm gay, always have been, always will be, and I couldn't be any more happy, comfortable with myself, and proud," wrote the dashing Silver Fox.
As Cohen pointed out on the latest episode of Anderson Live, Star's bitchy comments were even more ridiculous considering the show was on a summer break when Anderson made his public announcement.
"That's why it so annoyed me because of all the ways to boost ratings - like if I was wanting to boost ratings - I would have waited to announce it on a very special episode, that would have been promo'd for weeks and weeks and there would have been commercials, ' Anderson's huge announcement,' and you would have a cut away of the audience," argued Cooper.
Article continues below advertisement
"But instead I was in Africa on assignment for 60 Minutes, I sent an email to a friend of mine who put it on a website. I gave no interviews about it, I never talked about it.
"I wasn't even on the air for days afterward and so suddenly Star Jones, who as memory serves, in terms of boosting ratings, I seem to recall her hocking her wedding every single day to get free products when she was on The View," normally nice Anderson bitchily sniped.
"I seem to recall her lying about her gastric bypass surgery and making everybody else lie about it as well.
"So for her to suddenly emerge out of the shadows and suddenly attack me for this, I couldn't believe it. And my mom was like, 'Who is Star Jones?' Anyway, so I can't even believe I am bringing this up because I don't even want to give give Star Jones the attention. I never planned on talking about this but we invited Star Jones to come on this show and she turned us down."
Article continues below advertisement
"I would think she would want as much publicity as possible given her penchant for wanting publicity," he commented, offering Andy the role of mediator in an on-air face-off.
Apart from the heinous reaction from Jones, Anderson revealed that he was pleased with the response he got when he came out.
"I think it's important to send a message to, especially young people, there's nothing to be ashamed of and you can be successful and you can have a life and you can have many interests and this is one part of your life."