Ramona Singer Denies Having A Drinking Problem, Accuser Jill Zarin 'Was Just Jealous!'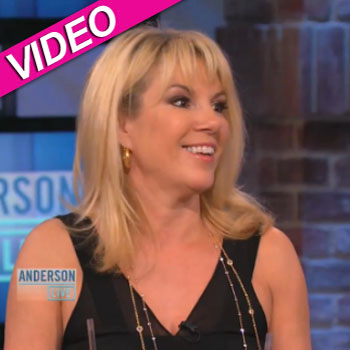 Article continues below advertisement
"I've been drinking no more or less than the first season. Do I have my wine with my lunch? Absolutely. When we are entertaining on camera for dinner? Yes. For a cocktail party? Yes. I have a couple of glasses," she revealed while detailing her lengthy daily drinking calendar of social engagements.
Ramona went on to dish how shooting the bitchy drama actually drives her to drink!
"I haven't had a wine in two weeks but when we are filming it's very tense, I need a wine to relax me around those women," she told Cooper.
Anderson said at least she wasn't as bad as Atlanta Housewife Kim Zolciak, whom he claims, "used to bring the wine like in the car."
"Oh yes, I've seen her with all this wine," agreed Singer, while evading the question as to whether she will be back next season or not.
"But you know what if you think about it, some people like to hold a cigarette," she explained. "It gives me security around these women who are about to attack me having a glass of wine in case they get a little too feisty with me, maybe I throw it in their face - but I haven't done that!"
Anderson Live is a nationally syndicated talk show, visit AndersonCooper.com for local listings.