We're Just Like Everybody Else! World's Smallest Siblings Reveal Their Day To Day Struggles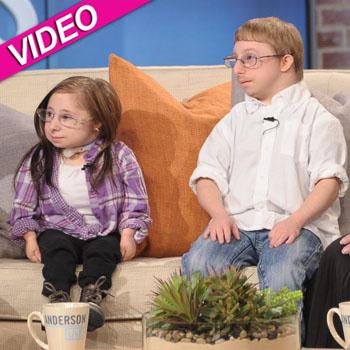 By Debbie Emery - RadarOnline.com Reporter
A set of primordial dwarf siblings are proving that good things do come in small packages.
Dubbed the world's smallest siblings, Bri, 23, and Brad Jordan, 21, appeared on Anderson Cooper's talk show in an episode that will air on Friday to reveal what life is like when everyone you meet towers above you.
Brad, who weighs in at just 38 pounds and is 38 inches tall, told Cooper that the biggest challenges they face are "going grocery shopping because we can't reach stuff on the top shelf, and driving."
Article continues below advertisement
The brother and sister have osteodisplastic dwarfism type 2, which is extremely rare with only 100 cases recorded in history, according to their mother, Christy Jordan.
"We just have people stare a lot," revealed Brad, one of the stars of TLC's Big Tiny.
His older sister, 18-pound and 27 inch tall Bri went on to explain: "We just do everything we want, we don't think about it that much.
"We try to get across that all people are different and there's a lot of issues and different types… all dwarfs are different, we try to bring that out that anybody has dwarfs or big people because we have so much different experience than other people," said the plucky girl from Sandoval, Illinois.
When asked if cruel taunts and negativity are hard to deal with as a mom, Christy explained that they deal with it head-on.
"It is, when they were little we embraced that they were different and we embraced that we can't change that. I think what Bri is trying to say is we try to educate people and let them know that just because you look different or do something different you're just like everybody else.
Article continues below advertisement
"That's all they want in life is to just be like everybody else and that's their life and you accept what you can't change," she said.
The little brother and sister duo are both now in college, but say while they don't really date, they do have plenty of friends.
"Bri actually went to her college friends' parties and that was a little scary in itself," revealed Christy.
"Do you want to tell us what goes on at the parties? You probably don't want to talk about that in front of your mom," asked the curious Anderson Live host.