Gordon Ramsay's Dwarf Porn Double Found Dead In A Badger Den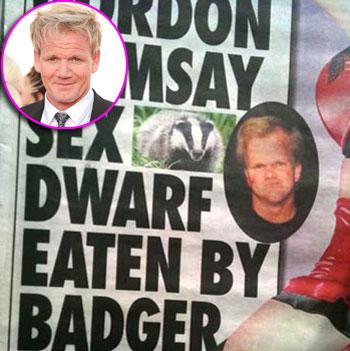 In a bizarre case that would have even CSI's top investigators stumped, a dwarf porn star who was Gordon Ramsay's doppelganger was found dead in a badger set in the U.K. RadarOnline.com has learned.
Percy Foster, star of X-rated movie Hi-Ho Hi-Ho, It's Up Your A**e We Go, was about to be rocketed into the ranks of celebrity porn lookalikes due to his resemblance to the Hell's Kitchen host when his partially eaten body was discovered in a badger's den.
Article continues below advertisement
According to a report in U.K. tabloid The Sunday Sport, the 3'6" actor was found "deep in an underground chamber by Ministry of Agriculture experts ahead of a planned badger-gassing program near Tregaron, west Wales."
Expert CSI teams had to use fingertip technology to remove his body from the six-foot-deep burrow, and investigators have not yet ruled out the possibility of suicide.
"Percy was a little guy with big problems," said adult film producer Dexter Yamunkeh. "He was doing well but was under pressure like everyone else in this god damn industry."
In a recent interview, 35-year-old Percy revealed his delight at being compared to Ramsay.
"Porn lookalikes get more money than normal actors. Dwarf lookalikes are as rare as hen's teeth and so can command top dollar.
"I've already ordered a new BMW and a diamondencrusted Soda Stream," said the pint-sized porn star.
RELATED STORIES:
Gordon Ramsay's Real Kitchen Nightmare: His Mother-In-Law Is Planning To Sue Him