Primordial Dwarves Who Are World's Smallest Siblings Get Reality Show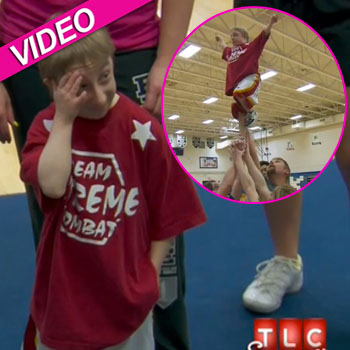 By Alexis Tereszcuk - Radar Entertainment Editor
Get ready to meet and fall in love with the primordial dwarves who are the world's smallest siblings as they take on big challenges in a new reality show.
Bri and Brad Jordan are primordial dwarves and are just 27 and 38 inches tall, respectively. They are starring in a new reality series on TLC called Big Tiny, and RadarOnline.com has a sneak peek of their premiere episode.
Article continues below advertisement
21-year-old Brad has earned a college scholarship and is a member of the cheerleading squad. He's an accomplished gymnast and an inspiration to the other members of the team, who say that because he's a tumbler they are too.
"When I'm tumbling I feel like I'm flying," Brad says.
Bri and Brad are in the Guinness Book of World Records as the world's shortest siblings but in their show they reveal how they're living life in a big way.