Peter Dinklage Brings Attention To Dwarf Tossing Attack: 'Google Martin Henderson'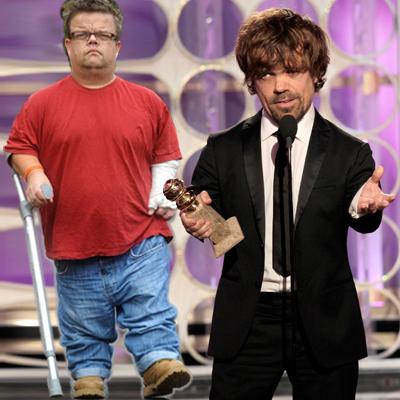 By Debbie Emery - RadarOnline.com Reporter
Rather than just basking in his own success, actor Peter Dinklage made sure to use the spotlight for a good cause when he accepted his Golden Globe award on Sunday.
The Game Of Thrones star ended his acceptance speech by telling the audience to Google the name Martin Henderson.
"I want to mention a gentleman I'm thinking about in England: his name is Martin Henderson," said Dinklage, who has a form of dwarfism called achondroplasia. "Google him."
Article continues below advertisement
Millions of viewers did as they were told and transformed Henderson from an unknown actor to an Internet sensation literally overnight.
What came to light thanks to Dinklage's guidance is the shocking story of a 37-year-old dwarf and aspiring actor who was left badly injured after being 'dwarf tossed' by a drunk man outside a pub in Somerset, England.
Out celebrating his 37th birthday last October, Henderson had left the pub in the town of Wincanton to have a cigarette when the unknown man picked him up and dropped him on the ground, injuring his back and legs, which have been numb since the attack.
He has not been able to walk since and been forced to resort to using crutches and a wheelchair.
According to a report in U.K. newspaper, The Sun, the unprovoked attack could have been inspired by the English rugby team who attended a "Mad Midget Weekender" event in New Zealand during the World Cup just weeks before the incident, where they watched a dwarf-throwing contest.
"The England players had been in trouble for going to a dwarf tossing event and this might have given this guy the idea," 4'2" Henderson told The Sun. "I guess I was an easy target and the only reason I was picked on was because I am small," he said.
Article continues below advertisement