The Little Couple Slam Dwarf Tossing, 'It's A Horrible Thing Some People Call Sport'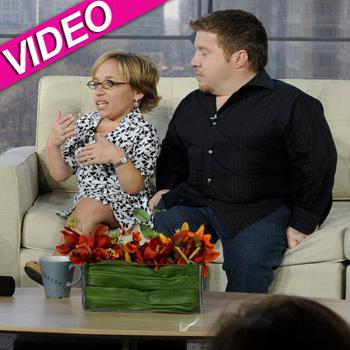 Article continues below advertisement
"I'll tell you what dwarf tossing is, it's a horrible thing that some people call a sport. It's not a sport," Jen told the daytime talk show host. "It's basically, where in a bar, if you are partaking of libations, adult beverages, a little person agrees to put a hat on them, a helmet for safety and some padding and they are thrown as far as they possibly can just because they are a little person.
"As you can imagine, that's not a very safe activity. Number one, you have drunk people who aren't with their where with all throwing someone as the objects across the room."
Anderson weighed in, stating, "It's also incredibly demeaning and just wrong," and Jen agreed with him.
"Then there's the whole, yes, demeaning factor and so the fear is that, there are very few little people who sign up to do those things but number one, there's a risk to their physical well being to doing it, not only their mental being, and then there's the risk to other little people in the community, someone might think that's okay and if you're out having a drink, socializing at a bar, someone might want to do that to you," she said.
Article continues below advertisement
Anderson then discussed a Florida state representative who is calling to repeal the law that makes "dwarf tossing" illegal in the state of Florida.
Bill is disgusted with this legislative game, "There is this Representative Ritch Workman that had put it out there as a way and a means of generating new business in the struggling the economy in Florida," he explains.
And what would his response be to Rep. Workman?