Say It Isn't So! Gordon Ramsay Dead Dwarf Porn Star Story Is A Mere Myth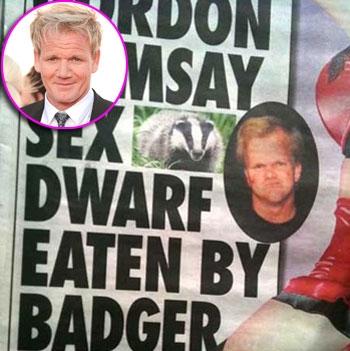 It's the story that seemed just too bizarre to be true, and it turns out that it was!
Gordon Ramsay can now sleep easy at night in the knowledge that his porn star dwarf double was not found half-eaten in a badger den, RadarOnline.com has learned.
Percy Foster, the halfpint-sized porn star whose murder by Welsh badgers catapulted him to infamy, is not dead - and doesn't even exist, reported Gawker.com on Tuesday.
Article continues below advertisement
It turns out that Foster is as mythical as the Gordon Ramsay look-a-like unicorn and the Gordon Ramsay look-a-like minotaur, confirms Gawker.
As RadarOnline.com previously reported, the story went that 35-year-old Foster was about to be rocketed into the ranks of celebrity porn lookalikes due to his resemblance to the Hell's Kitchen host when his partially eaten body was discovered in a badger's den.
According to a report in U.K. tabloid The Sunday Sport, the 3'6" actor was found "deep in an underground chamber by Ministry of Agriculture experts ahead of a planned badger-gassing program near Tregaron, west Wales."
However, the animal in question is now off the hot seat, reported the Huffington Post's Weird News reporter, after a spokesperson for the police in Tregaron where the late little actor was allegedly found said they have no knowledge of the badger-related death.
Article continues below advertisement
Fortunately though, the porn star dwarf whose face appeared in the story IS real — although he's a "little person" rather than a dwarf. Joey the Midget does bare an uncanny resemblance to the Hell's Kitchen host, which can be witnessed in adult movie classics such as The Adventures of Big Sch**ng & The Little Dong.
RELATED STORIES:
Gordon Ramsay's Real Kitchen Nightmare: His Mother-In-Law Is Planning To Sue Him