'This Dwarf Was More of a Man Than Gordon Ramsay Will Ever Be,' Claims Hell's Kitchen Host's Ex-Mistress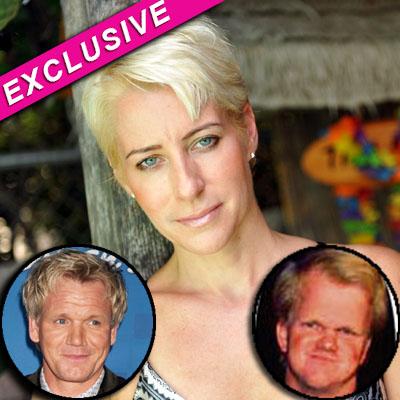 As details of the bizarre death of Gordon Ramsay's dwarf porn star double emerged on Monday, the Hell's Kitchen host's former mistress gave her reaction to the strange case.
"Even at his vertically challenged height, I'm sure this dwarf was more of a man than Gordon Ramsay ever will be," Sarah Symonds, who claimed she had an on-and-off fling with Ramsay for seven years, told RadarOnline.com in an exclusive interview.
Article continues below advertisement
As RadarOnline.com previously reported, Percy Foster, star of X-rated movie Hi-Ho Hi-Ho, It's Up Your A**e We Go, was about to be rocketed into the ranks of celebrity porn lookalikes due to his uncanny resemblance to the reality TV star when his partially eaten body was discovered in a badger's den.
"Since Gordon is the first one to brag about the size of his organ, this poor man's death, might just be an opportunity for him. My advice to Gordon, is to reignite his career and step into this porn star's shoes. God knows he needs something right now," said Symonds, who runs a Mistresses Anonymous 12-step recovery program and a blog called Pillow Talk, who had harsh words for her former lover.
"It's a shame this 'small person' had to tarnish himself with the Gordon Ramsay name. I mean, who would want to even try 'live up to' that image? The worst image going.
"I wonder if he (Foster) was a love cheat as well. I hope not," lamented Symonds.
According to a report in U.K. tabloid The Sunday Sport, 3'6" Foster was found "deep in an underground chamber by Ministry of Agriculture experts ahead of a planned badger-gassing program near Tregaron, west Wales."
Authorities are still investigating the cause of his death, but have not yet ruled out the possibility of suicide.
RELATED STORIES: