Seeing Eye To Eye For Once! World's Shortest Man And Woman Finally Meet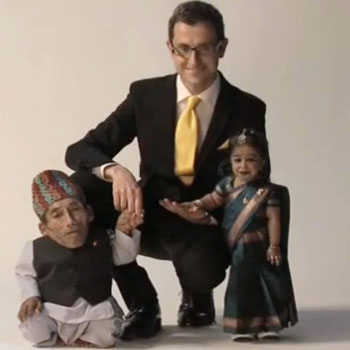 By Debbie Emery - Radar Reporter
They say good things come in small packages and that couldn't be more true for when the world's shortest man and woman met for the first time.
Despite being born 54 years and hundreds of miles apart, Chandra Bahadur Dangi and Jyoti Amge share a rare bond by their inclusion in the Guiness Book Of World Records, which arranged the size-appropriate match-up, reported MSNBC.com.
Article continues below advertisement
Dangi, 72, of the remote village of Rhimkholi, Nepal, stands just 21.5 inches tall, but he was the perfect height for 18-year-old, 24.7 inch tall Amge from Nagpur, India, when the pair was united for a special photo shoot dressed in their traditional costumes for the upcoming 2013 issue of the iconic record book.
"It was an extraordinary moment; they're both such incredible individuals. Everyone knew this was a special moment and the atmosphere was magical," Guinness World Records spokesman Marco Frigatti said.
Despite her smaller than pint-size stature, Jyoti has big ambitions and dreams of one day becoming a Bollywood star.
"Since being recognized by Guinness World Records I have been able to visit lots of different countries. I love traveling," said the ambitious teenager, who has a form of dwarfism called Achondroplasia. "I have visited Japan and parts of Europe and now I can't wait to visit the UK."
Her photo partner likes to live his life on a smaller scale, however, and the shoot was the first time that he had left his small village 250 miles west of Kathmandu. "It's a big thing for my family, my village and my country," Dangi said in a press release. "I am very happy."