World's Oldest Woman Celebrates 116th Birthday, 'I Don't Eat Junk Food!' She Says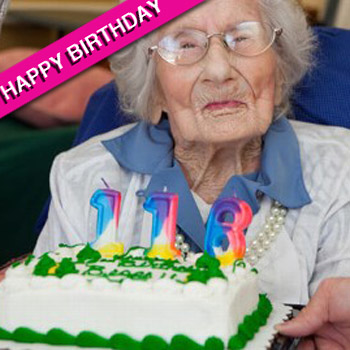 By Debbie Emery - Radar Reporter
She doesn't look a day over a hundred!
The world's oldest woman turned 116 years old on Sunday and the landmark date was immortalized with a bridge being named in her honor.
Besse Cooper, of Monroe, Georgia, is now not only included in the Guinness Book of World Records, but will also now be the namesake of a bridge over the Alcovy River in her rural home town, reported the the Walton Tribune.
Article continues below advertisement
"She acknowledged it and seemed to be pleased," said her son Sidney Cooper. "We're all very pleased by it. We think it's really great and we are very appreciative to the county for it.
"The older she has gotten the more wittier she has gotten," he added about his age-defying record-breaking mom.
Cooper recently revealed her secret to longevity. "I mind my own business," she told the Guinness Book of World Records. "And I don't eat junk food."
Cooper was born August 26, 1896, in Sullivan, Tennessee, and moved to Georgia in the 1920s, settling in the town of Between, which has a population of only 296 people according to the 2010 census.
After marrying Luther Cooper in 1924, Besse taught at the Between school before she was widowed in 1963. She has four children, 12 grandchildren and many great- and great-great-grandchildren.
"Besse is such a sweet woman. I have had a chance to talk to her, hear her stories, and if we are going to be put on the map, she is a great reason," said Between Mayor Polly Gasstrom of the sleepy little town's most famous resident. "I know a lot of people will be happy when that bridge opens up."