Exclusive
The 50-Year-Old Boob Job! Woman With World's Oldest Breast Implants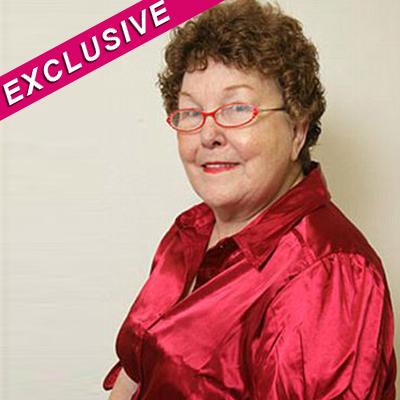 Just like laptop computers, smart phones and iPads, it is hard to imagine a world without breast implants!
2012 marks the 50th anniversary of the boob job, and RadarOnline.com has an exclusive interview with the woman whose enhanced cleavage changed surgical history.
Timmie Jean Lindsey, of Houston, Texas, had never intended to revolutionize the lives of millions of women when she went under the knife in the spring of 1962, in fact all she wanted to do was mend a stupid mistake from her younger years.
Article continues below advertisement
"I had originally gone to the doctors because I was a young, recently divorced mother and had a couple of tattoos on me that I regretted," the 80-year-old exclusively revealed to RadarOnline.com. "I had been told not to mark my body but instead I got roses and leaves tattooed over my breasts of all places!"
Before she knew what was happening, the mom-of-six was being eyed up by surgeons as the first candidate for their revolutionary silicone implants. "Unbeknownst to me they did a lot of measuring and I remember hearing them say that I would be the perfect size – they wouldn't be too big or too small," she explained.
After a little gentle persuasion, Timmie agreed to let the two pioneering surgeons, Dr. Frank Gerow and Dr. Thomas Cronin, put her under and boost her modest B cup to a perky C, but not before she made them promise to pin back her ears too!
"I had never thought about my breast size and I told them I'd rather have my ears pinned back because my brother had teased me mercilessly growing up and called me Big Ears, so they did that too."
Article continues below advertisement
Despite being an unsuspecting guinea pig in the revolutionary surgical procedure at the Jefferson Davis Hospital, Lindsey said she wasn't scared that something would go wrong. "I wasn't at all afraid, I trusted the doctor," she told RadarOnline.com.
The new addition to her girlish figure definitely took a lot of getting used to. "It felt like a heavy weight sitting on my chest, like an elephant had sat on me!" she laughed.
"They put the implants underneath my tissue against my rib cage, there was a like a mesh frame so my flesh could grow though it and anchor them to my chest."
Now after 50 years, she's grown used to implants. "I still have them in, it feels natural as they've settled with age. They don't feel too hard anymore," said Timmie, adding "I always had a real nice shape even after all my babies, I never thought anything was wrong with my old breasts!"
Article continues below advertisement
Rather than flashing her boobs like so many plumped up reality stars do nowadays, Timmie didn't even tell anyone about her implants until 30 years later.
"No one knew! I didn't talk about it and if I did meet someone, I only spilled the beans if they asked why my boobs were so nice. Even my grandson found only out from a story in the local newspaper when he was serving abroad."
Lindsey finally came out when Dr. Cronin asked her to appear on a Houston morning show to argue in favor of implants during the health scare over silicone in 90s. "I was in total obscurity until 1992."