Exclusive
Booblicious! Hollywood's Best Breast Implants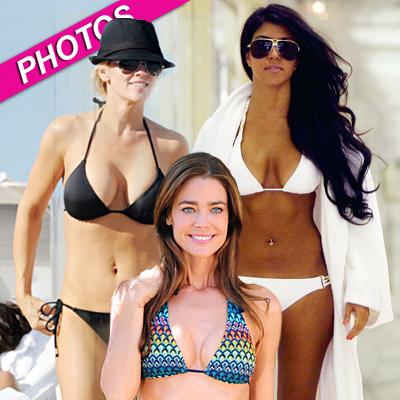 Hollywood starlets have the best bodies that money can buy, especially when it comes to their beautiful breasts, and RadarOnline.com has a gallery of the best ones Tinseltown has to offer!
Kourtney Kardashian might only be 5' tall but she packs a powerful body into her little frame, including her sculpted boobs. The Kourtney and Kim Take New York reality star rocks a bikini and has never shied away from talking about her fake boob. "I have had breast implants," the 33-year-old mother says. "But it's so funny because it's not a secret, I could care less."
Article continues below advertisement
Hollywood darling Kate Hudson, 33, was not blessed with naturally large breasts so when she went under the knife she only upped her chest by a small cup size but they look just perfect on the Something Borrowed star!
Kelly Rowland, one of Beyonce's former band mates in Destiny's Child, is hilariously open about getting new boobs, saying she was tired of "having little nuggets for boobs!"
Posh Spice can afford the best of everything, and that includes her beautiful boobs. Victoria Beckham, 31, keeps her gorgeous husband David Beckham happy with her bodacious body which includes the sexiest implants this side of the pond!
She has given birth to eight children and gone under the knife all for reality TV and Kate Gosselin's sculpted body is definitely worth the money! The 37-year-old former Kate Plus 8 star had major reconstruction after her sextuplets and when she strips down to show off her breasts they look absolutely amazing!
Real Housewives of Orange County star Alexis Bellino, 34, and Jersey Shore star Jenny JWOWW Farley , 26, have some of the best breasts in reality TV, while Charlie Sheen's ex Denise Richards, 41, rocks a really great set of implants too.